Promising report on Argentine mining sector and contribution to the economy
Thursday, March 13th 2014 - 11:26 UTC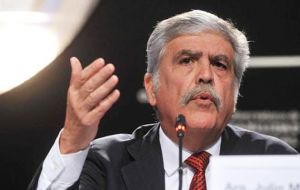 The Argentine mining sector is expected to invest 3.85 billion dollars this year, including 800 million as imports' substitutes, announced Planning minister Julio de Vido, who also revealed that in the last ten years the sector has invested over 11bn dollars and generates an activity equivalent to 3.2% of GDP.
The minister gave the promising statement on receiving the Argentine delegation which recently attended the Toronto International mining expo and included Mining Secretary Jorge Mayoral; the vice-president of the Mining Chamber, Manuel Benítez plus other sector representatives as well as union leaders.
De Vido also revealed that 3.000 personnel continue to work on the Argentine side of the gigantic Pasqua-Lama gold and silver mining project, (6bn dollars) which is awaiting a decision from Chilean courts on environment disputes. Nevertheless the resent inauguration of President Michelle Bachelet means some time will evolve before there is a clearer pictured.
According to the report presented by the delegation not only have 11bn dollars been invested from 2003 to 2013, but there are 6.010 companies involved in the industry, generating 3.2% of GDP, 6% of jobs and 7.4% of Argentina's exports. Direct jobs are estimated at 72.300 and indirect at 564.900. Salaries are also among the highest in any industry.
However one of the main demands from the companies in mining is allowing the transfer of profits overseas, which at the moment have been suspended given the shortage of hard currency that Argentina is suffering and has drastically limited access to US dollars.
De Vido downplayed the claim arguing it is "not one of the central issues' since investments from the sector in 2013 reached 1.7bn dollars and in 2014 are estimated to jump 126% to 3.8bn.
Secretary Mayoral underlined the strong interest from US and Indian companies in Argentina's mining potential, particularly such basic metals as copper and lithium. "Argentina is the world's second producer of lithium and the third world exporter of potash", he pointed out.
Regarding 'new stimuli' demanded by mining companies, De Vido said that the current legislation has enabled the mining sector to treble exports from 2.1bn to 6.5bn in the last ten years.
"Mining production has become Argentina's third most important export item behind grains and oilseed and food produce, with 23.68bn dollars in ten years", pointed out De Vido.