PM Cameron suggests more devolution in fiscal matters if Scotland votes NO
Monday, March 17th 2014 - 15:46 UTC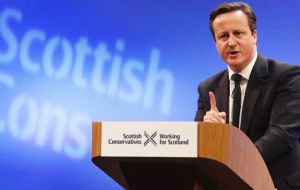 The Scottish Parliament could gain more power over tax if voters reject independence, said British Prime Minister. A No vote on September 18 is "not the end of line" for devolution, David Cameron told the Scottish Conservative party conference in Edinburgh.
PM Cameron stopped short of spelling out any detail on what those powers could be, but insisted that he and Scottish party leader Ruth Davidson want devolution to "work better".
"Let me be absolutely clear: a vote for 'no' is not a vote for 'no change'; we are committed to making devolution work better still.
"Not because we want to give Alex Salmond a consolation prize if Scotland votes No, but because it's the right thing to do.
"Giving the Scottish Parliament greater responsibility for raising more of the money it spends - that's what Ruth believes, and I believe it too.
"So here's the re-cap: vote yes, that is total separation.
"Vote no, that can mean further devolution - more power to the Scottish people and their parliament, but with the crucial insurance policy that comes with being part of the UK."
The pro-independence Yes Scotland campaign group said the promise is a sham.
Chief executive Blair Jenkins said: "The trouble is that we have heard it all before and it is clear from what the Prime Minister said today in his speech that he cannot and will not guarantee more powers for the Scottish Parliament.
"With Labor also hopelessly split on more powers, the message to take from all of this is very clear: that the only way the people of Scotland can be guaranteed to get the powers they want and the country needs is to vote Yes on September 18."
In his 20-minute speech, the Prime Minister insisted there will be "no going back" if voters say Yes to independence. He praised the "spirit" of the party in Scotland, which has just one MP at Westminster.
An opinion poll this week put support for independence at its highest level for more than six months. The Survation poll suggests 39.3% will vote for independence, compared with 47.6% who said they want Scotland to remain part of the UK.