Argentina secures French support for its ongoing litigations with hedge funds
Thursday, March 20th 2014 - 07:11 UTC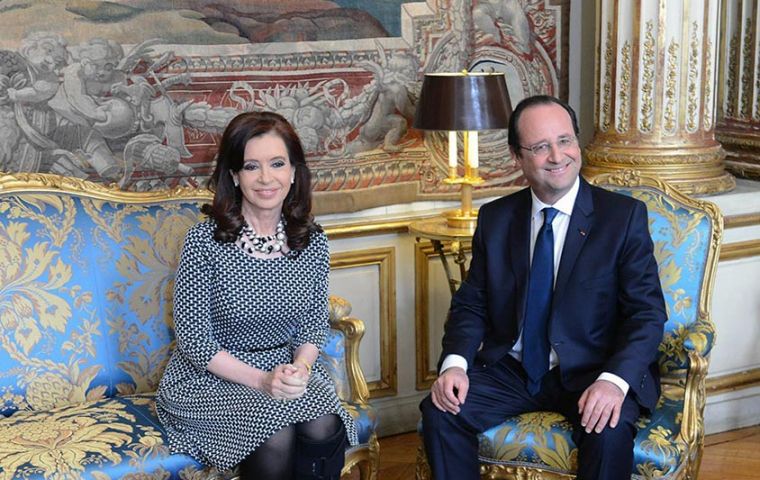 President Cristina Fernández praised the decision by France to file an 'amicus curiae' brief before the US Supreme Court, in a show of support to Argentina in its long-standing battle against speculative fund creditors, and also secured the backing of the French government to settle a 9.5bn dollars dispute with the Paris Club.
The Argentine leader made the announcement on Wednesday following a two hour meeting with Francois Hollande at the Elysee Palace, which was followed by a joint press conference.
"What would happen in the case of countries with mile-high debt levels, (with) groups that reside in tax havens, that don't even pay taxes in their own countries? It will be a real moral and political scandal," Cristina Fernandez said addressing the international press in Paris along with her peer Hollande.
The head of state accused a "group" of creditors of seeking to "knock down an agreement reached with 93% of (Argentina's) creditors." "A minimum part (of bondholders) that accounts for 1.3 billion dollars, threats to knock down one of the most important agreements ever" underlined Cristina Fernandez.
The Argentine leader also highlighted a recent invitation by the Paris Club to negotiate Argentina's overdue debt, an important step towards settling the long-running debt dispute. Negotiations are set to begin 28 May and France will support Argentina.
"Negotiations with the Paris Club will be beneficial for all European companies, those that create jobs for Europeans as they will gain access to credit and contribute to the world's economic activity."
Prior to CFK's statements, Hollande had praised Argentina-France economic and trade ties. "We can still do much more. Argentina is France's third largest trade partner in South America. France wants Argentina to overcome its financial bustles," the French leader said.
During the press conference at the Elysee Palace, CFK announced she will hold a meeting with the Director General of Total, the French energy giant that has reached an agreement with Argentina's state-run YPF to invest in shale gas drilling.
"Argentina has become an oil country" said Cristina Fernandez as she pointed out the country accounts for "the world's third largest reserve of shale gas and the fourth of shale oil."
Finally there was mention of the Mercosur/EU trade negotiations and the Argentine president said that 'they are advancing' and anticipated they would be successful.