Pope Francis meets Malvinas war veterans and next of kin
Thursday, March 20th 2014 - 06:46 UTC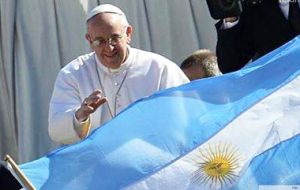 Pope Francis met on Wednesday with a group of Malvinas veterans and next of kin of fallen in the Malvinas war, two weeks before the 32nd anniversary of the Argentine military invasion of the conflict.
"I have you in my heart" said the former Buenos Aires archbishop Jorge Bergoglio to the veterans and relatives with whom he spent a few minutes, was pleased to have pictures taken and supported a manifest for "Peace in the South Atlantic".
The group was headed by the Relatives Commission, Delmira de Cao and the Dean from the Lanus National University, Ana Jaramillo, and included 12 veterans and 20 relatives of combatants who lost their lives in the 1982 conflict.
The group was accompanied by a priest and war veteran, the mayors from Lujan, Oscar Luciani and from Ushuaia, Federico Sciurano and a former Falkland Islander who now lives in Argentina.
In total they were 39 people, and had a privileged position in Saint Peter's square on the right side of the altar from where Pope Francis led the ceremony.
"It was a very emotional moment; Francis told the veterans he carries them in his heart; he always prays for them and called on them to continue working for peace", said mayor Sciurano.
"When the ceremony was over, the Pope invited us to the altar and we took pictures, chatted with him and gave him some presents", said the mayor revealing that one of the gifts was a picture of Francis with the city of Ushuaia behind him and a short inscription: 'I come from the end of the world', which was the phrase he used when he was nominated.
The group also asked the Pope to bless a replica of the Virgin of Lujan that stands at the Darwin cemetery in the Falklands, and which has been in peregrination all of last year completing fourteen provinces, and which will continue this year.
They also requested Pope Francis to adhere to the South Atlantic peace initiative, as it was declared by the UN.
The Argentine media points out that on 3 April, a day after the 32nd anniversary of the Argentine invasion, Francis will be receiving in a special audience Queen Elizabeth, who is head of State and head of the Anglican Church, and her husband Prince Phillip.