Argentina's grain shipping blocked by vessel grounded in the Paraná
Friday, March 21st 2014 - 05:56 UTC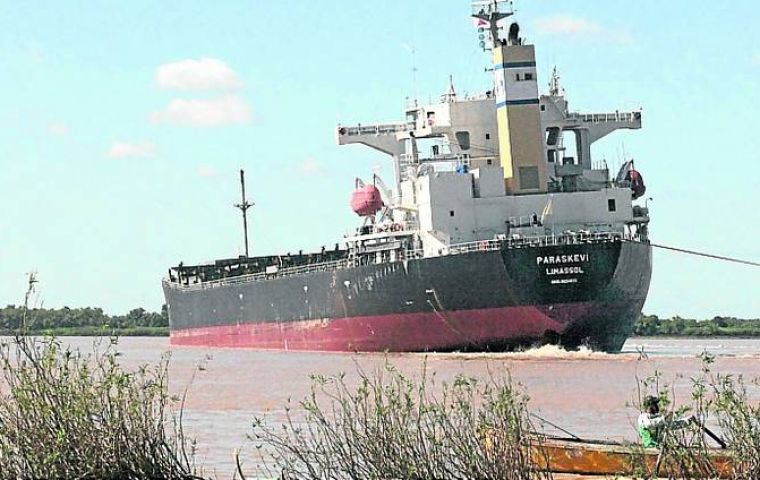 Argentina's river Paraná is blocked since early March when a Cypriot flagged vessel broke down with a 45.000 tons cargo of soybeans, thus holding back access of another eighty vessels waiting to load in Rosario and other ports in the heartland of the grains and oilseeds country.
All week long three heavy tugs have been working to try and dislodge the Panamax MV Paraskevi, which is stranded at kilometer 407 of the mighty Paraná river, one of the busiest cereal waterways in the world.
"The losses are immense, not only because of the additional costs faced by the eighty vessels in the queue but also from the stranded vessel itsefl, that only ten days ago loaded 45.000 tons of soybeans at Cargill's terminal of Villa Gobernador Galvez", said Guillermo Wade, from the Rosario Chamber of Port and Maritime Activities.
"What really happened with the vessel will have to be determined by the Coast Guard, since it was loading the soybeans and ready to leave. It was not a problem of draft in the river. We believe there was some kind of engine blackout o problems when maneuvering" added Wade.
He pointed out that the daily cost for every vessel ranges from 20.000 to 25.000 dollars. "If you multiply that by twelve days, and the number of ships waiting the losses are immense. To this must be added the costs of dislodging the Cyprus vessel, also extremely dear".
Last June the Argentine fluvial Coast Guard had to shut out navigation in the Parana river because two vessels, from Singapore and Malta, grounded, the MTM Northsound loaded with fertilizer and the Ariadne with a cargo of 24.000 tons of soybeans.