Cristina Fernández ends visit to France with references to Peron and De Gaulle
Friday, March 21st 2014 - 09:44 UTC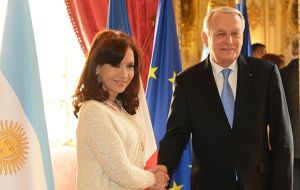 President Cristina Fernandez on the last day of her visit to France, and escorted by Prime Minister Jean-Marc Ayrault, inaugurated on Thursday Argentina's pavilion at the Salon du Livre in Paris, one of Europe's too cultural events, and also praised the long standing ties between the two countries and evoked leaders Juan Domingo Peron and Charles de Gaulle.
This year's edition of the event has precisely Argentina as a guest of honor and among other writers pays tribute to acclaimed Argentine writer Julio Cortázar, who lived in France from 1951 onwards. This year is Cortázar's birth centenary.
Escorted by French PM Ayrault and joined by Argentine officials, human rights leaders and artists, Cristina Fernandez addressed visitors of the book fair praising Argentina-France cultural ties.
A destination for many Argentines who were forced to exile during the country's brutal military dictatorship, CFK acknowledged the warm "embrace" the French offered those escaping from their homeland during the 70´s and 80's, and many others after Argentina's 2001-2002 crisis as well.
"I want to say hello to the Argentines who visit, live and study in France, those who love France as much as they love their homeland. France, that took them in when they were in danger and they felt their homelands was letting go. In the name of those Argentines, I thank the great embrace that France gave us, a second homeland for many Argentines," Cristina Fernández said.
Cristina Fernández also underlined the significance and contribution of Argentine artists and writers such as Quino, Leopoldo Marichal and Julio Cortázar
"We're honoring the great caricaturist Quino, the father of Mafalda, who is closely linked to my youth. In his short comic-strips at the foot of newspapers front pages he said with humor what nobody dared at the time and is such a way it could not be censored" recalled Cristina Fernández.
The Argentine leader revealed that when her Monday meeting with Pope Francis, "I told him I was going to Paris to the book fair and he had a special request: please don't forget an Argentine writer of French origin, Leopoldo Marechal. The Pope said it was important people get to know about him and read his books and confessed that when he moved to the Saint Martha hostel, where he is living in Rome, he brought along with him one of Marechal's books".
Cristina Fernandez then underlined more direct political ties and recalled that "Juan Domingo Perón (then in exile in Spain) ordered the Peronist Youth to receive visiting French president Charles de Gaulle (1964) as a hero. And so it was the Peronist youth took to the streets chanting "Perón and de Gaulle, one heart".
And Socialist PM Ayrault didn't fall back and recalled the speech of General De Gaulle at Buenos Aires Law School when he said that "Argentina and France had much alike...", which was supported by an impressive applause, turning the French leader into an icon of the Peronist youth movement.