Mercosur and EU in another effort to advance in the long delayed trade agreement
Saturday, March 22nd 2014 - 07:31 UTC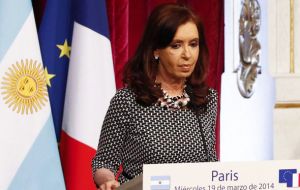 Mercosur and European Union chief negotiators met on Friday in Brussels to define if conditions are ready for the exchange of tariffs reductions proposals with the purpose of reaching an ambitious trade agreement which was started back in 1999 and has yet to mature.
This last round of negotiations which was launched in 2010 was supposed to be concluded at the end of last year but problems on both sides delayed the talks particularly since Argentina has had a more restrictive approach and has been dragging its feet as its current policy is to promote local manufacturing and the domestic market.
However a week ago under strong pressure from Brazil, the situation was unlocked and apparently Argentina will be part of the joint proposal to be presented to the EU counterparts when the time comes.
This was confirmed by Brazil's Minister of Industry Mauro Borges following his visit to Buenos Aires on Friday 14 March, and by encouraging statements from President Cristina Fernandez herself when the joint press conference with French president Francois Hollande in Paris on Wednesday.
But the big question involves the degree of harmonized 'concessions' that can be expected from Mercosur countries, since Brazil, Uruguay and Paraguay are prepared for an ambitious presentation, in accordance to what was mentioned back in 2010, that is the elimination of tariffs for 90% of all goods and services.
On the EU side the agriculture issue remains a highly sensitive one for several leading countries and is the point on which Mercosur insists particularly. "Cohesion" on both sides remains a clue word.
Nevertheless in Brussels what was addressed and hopefully agreed are the parameters for the proposals, including the possibility of a tentative calendar for the definitive exchange of such proposals, and even when so many countries are involved it won't be easy, April/May is considered a good chance.
Likewise the EU has repeatedly pointed out that its proposal much depends on Mercosur, in so far that Argentina is included in the package, which means the Mercosur proposal is one, and shared by all four members in the negotiations.
So far it is clear that Brazil and Uruguay are the more ambitious and prepared to concede the most in tariffs, and at one point several options at 'different speeds' were considered, so as to contemplate Argentina's reluctance or slower pace in elaborating its 'modest' proposal.
Brazil and Uruguay (and Argentina) are also urged since as of last January first, the three have been categorized (by the World Bank) as high middle class countries, meaning they have lost some EU tariff benefits they enjoyed.
In the case of Uruguay several items such as equine meat; fresh fish; hake; mandarin and citrus; plywood; skins; canned fish; mollusks, among others have been dropped from the list of preferential tariffs.