Despite backlash from the extreme right, France will stick to economic reforms, says minister
Tuesday, March 25th 2014 - 09:30 UTC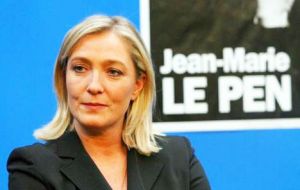 President Francois Hollande's government will stick to planned economic reforms and spending cuts despite being punished in local elections where the anti-immigrant National Front (FN) made gains, the French finance minister said on Monday.
In what leader Marine Le Pen called a breakthrough for her protectionist anti-EU party, the FN won power in the northern former coal-mining town Henin-Beaumont in a first-round vote on Sunday, and leads in a dozen towns before next week's run-offs.
With turnout at a record low of just over 60% after a string of political scandals that have hit mainstream French politicians of both left and right, Hollande's Socialists and their allies won just 38% of the national vote, behind 47% for opposition conservatives, initial tallies showed.
"On reforms, we have to keep calm and show courage," Finance Minister Pierre Moscovici told Europe 1 radio. "We are ready to take all the measures needed for France to remain a credible country on public finances."
Paris will send to the European Union details of planned public spending measures on April 15 as scheduled, he added. France's deficit is seen at 3.6% of GDP this year and Hollande aims to get below the 3% target in 2015.
The FN secured around 5% of the vote - a proportionately high amount given that it fielded candidates in just 600 towns, meaning that only one voter in three nationally had the option of casting their ballot for the party.
The strong FN showing reinforced expectations that it and other anti-EU parties will do well in May's European Parliament elections. Polls already show the FN on track to emerge as the largest French party in the EU assembly.
Prime Minister Jean-Marc Ayrault urged voters across the spectrum to back whatever candidate was best placed to beat FN rivals in Sunday's second round. A triumphant Le Pen said she was not interested in voter pacts with the mainstream right even if that could win her a greater presence on town hall councils.
"The National Front is taking root just as it wanted to do - and the crop is pretty exceptional," she told TF1 television.
Results released during the night put the National Front ahead in the eastern town of Forbach, in France's former industrial heartland. In the south, the anti-EU party was in the lead in Avignon, Perpignan and Frejus, and in second place in Marseille behind the conservative incumbent.