Unasur delegation expected Tuesday in Caracas 'to follow the political dialogue'
Tuesday, March 25th 2014 - 09:37 UTC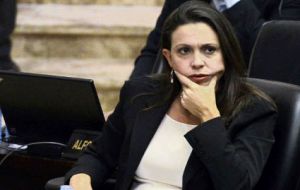 The Unasur (Union of South American Nations) committee to follow the political dialogue in Venezuela will be meeting in Caracas Tuesday and Wednesday this week in Caracas, reported officially the Ecuadorean Foreign minister, Ricardo Patiño.
"The Unasur committee to follow the political dialogue in Venezuela will be holding its first meeting in Caracas on March 25/26", twitted Patiño. Last week the Ecuadorean foreign minister had anticipated that before the end of March a Unasur mission of foreign ministers would be visiting Venezuela, in what could be "a very useful contribution to dialogue", where all the protests are taking place.
Patiño made the announcement last week during the ceremony in which the Unasur ''democratic clause' became effective, and "which is most important given the difficult situation faced by Venezuela".
From Asunción, Paraguayan foreign minister Eladio Loizaga announced that most probably he will be flying to Caracas on Tuesday together with visiting Colombian minister María Angela Holguín who this Monday was expected in Paraguay to address bilateral issues related to the Pacific Alliance.
Meanwhile from Caracas authorities on Monday reported that a pregnant woman who was shot in the head and a National Guard member fired upon as he tried to clear a roadway are the latest casualties of violence tied to ongoing protests in Venezuela, which total at least 36.
Likewise the head of Venezuela's congress said a top opposition politician had lost her seat and is no longer immune from prosecution for allegedly fomenting violence in the anti-government protests.
The woman who was killed, 28-year-old Adriana Urquiola, died Sunday night in Guaicaipuro, said the mayor of the municipality just outside the capital of Caracas.
Five months pregnant, Urquiola was shot after she left a bus that was stuck in traffic because of a barricade built by anti-government protesters. She had begun walking toward the road block but didn't appear to have been participating in the protest. It was unclear when she was fired upon.
The National Guard member, Sgt. Miguel Antonio Parra, died Monday during a street demonstration in Merida, said the southwestern city's mayor, Carlos Garcia. The opposition politician said Parra was shot when he and two other National Guard members were trying to clear the roadways and were confronted by protesters.
Diosdado Cabello, who heads the Venezuelan congress, said that opposition lawmaker Maria Corina Machado had violated the constitution by addressing the Organization of American States last week at the invitation of Panama, which ceded its seat at the Washington-based group so she could provide regional diplomats with a firsthand account of the unrest.
Maduro referred to Machado as "ex-congresswoman" on Saturday, a few days after arresting two opposition mayors for allegedly conspiring with the U.S. to topple his 11-month-old administration.
Machado responded in a Twitter message Monday: "Landing in Lima. Mr. Cabello: i AM a congresswoman as long the people of Venezuela want me to be".