Falklands' TriStars have flown their last operational mission with the RAF
Wednesday, March 26th 2014 - 22:31 UTC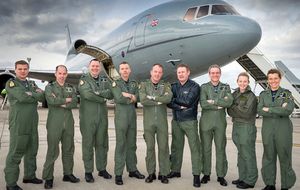 The Lockheed TriStar, closely linked to the recent history of the Falkland Islands has flown its last operational mission with the Royal Air Force. On 24 March, two TriStars of 216 Squadron based at Royal Air Force Brize Norton flew an air-to-air refueling mission over the North Sea before one of them conducted fly-pasts at airfields associated with its history.

During its service, the TriStar, fondly known as 'Timmy' by its crews, has formed the backbone of long range air transport and air-to-air refueling, participating in nearly every British conflict since it was brought into service.

The fleet of nine aircraft were acquired as a direct result of the 1982 Falklands conflict and the need to provide support to forces in the South Atlantic and to bolster the air-to-air refueling fleet.

In more recent times TriStars have provided air-to-air refueling for fast jet aircraft operating over Afghanistan and Libya, and provided a vital air-bridge, transporting troops and cargo to Iraq and Afghanistan.

Over a period of 8 years, 216 Squadron has flown to Afghanistan 1,642 times, carrying 250,000 passengers each way and travelling a total distance equivalent to flying around the world 640 times.

Philip Dunne, Minister for Defense Equipment, Support and Technology, said that the TriStar has served the RAF for 30 years and "today is an opportunity to celebrate its long and distinguished career".

"Providing vital support, TriStar has carried over 250,000 troops as well as battle-winning supplies to our personnel wherever they are in the world. It also carried out vital air-to-air refueling of our front line combat aircraft at home and on deployed operations.

"Its replacement, Voyager, is testament to our commitment to provide state-of-the-art transport and refueling capability for our armed forces. Capable of carrying more, for longer, it has already begun flights to Afghanistan and will also refuel our front line combat aircraft for decades to come", said Minister Dunne.

Speaking on the last operational mission of the TriStar, Officer Commanding 216 Squadron, Wing Commander Peter Morgan, said it was a very sad occasion.

"We've been very proud of the TriStar over the past 30 years where it's been involved in nearly every operation in both the air transport and air-to-air refueling roles.

"Pretty much everyone in the military has been in a TriStar and after 30 years all the aircraft are still in service; it has an impeccable safety record and is working to the very end of its career".

The TriStar's duties have been taken over by the Voyager which now provides state-of-the-art air-to-air refueling in support of the Quick Reaction Force that protects UK and Falkland Islands air space 365-days-a-year.

The remaining 4 TriStar aircraft left RAF Brize Norton for the final time on Wednesday 25 March, to travel to Bruntingthorpe Airfield in Leicestershire for disposal.