NML Capital targets Argentina's contract for satellite launches with private US company
Wednesday, March 26th 2014 - 05:54 UTC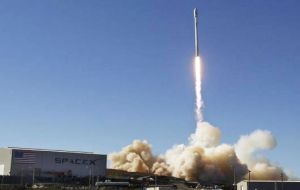 An Argentine bondholder seeking to collect on hundreds of millions of dollars in judgments stemming from the country's historic 2002 default filed a lawsuit on Tuesday aiming to take control of the country's rights under a contract for satellite launches with a private US firm.
The lawsuit, pending in Los Angeles federal district court, was filed by NML Capital, a unit of billionaire hedge fund manager Paul Singer's Elliott Management Corp, as part of a long-running series of court battles over Argentina's 100 billion dollar default.
NML's latest lawsuit focuses on Argentina's rights under a contract with Space Exploration Technologies Corp, or SpaceX, the private space firm owned and operated by technology entrepreneur Elon Musk.
SpaceX, which designs and launches rockets and spacecraft, had announced in 2009 an agreement with CONAE, Argentina's National Commission on Space Activity, for at least two satellite launches.
The launches on SpaceX's Falon 9 rocket are currently expected in 2015 and 2016, according to SpaceX's website.
Robert Cohen, a lawyer for NML at the law firm Dechert, said in a statement that Argentina's contract for launch slots "clearly constitutes property used for a commercial activity, which means a creditor, like my client NML, can seize it under the applicable law."
The two judgments at issue were issued in 2006 and 2009 and are worth 947.9 million dollars, according to the NML. The fund overall holds judgments against Argentina that the complaint values at 1.7 billion.
The lawsuit also seeks the possible appointment of a receiver and injunctions preventing the defendants from "jeopardizing" Argentina's interests in the launch contracts.
Representatives for Argentina's US embassy and SpaceX did not immediately respond to requests for comment.
The lawsuit comes as the US Supreme Court weighs whether to review an appellate court's decision ordering Argentina to pay 1.33 billion to creditors led by NML and Aurelius Capital Management who did not participate in debt restructurings in 2005 and 2010.
Creditors holding about 93% of Argentina's bonds participated in those debt swaps, which gave them 25 to 29 cents on the dollar.