Argentina denies the subsidies reduction will have an inflationary impact
Saturday, March 29th 2014 - 05:43 UTC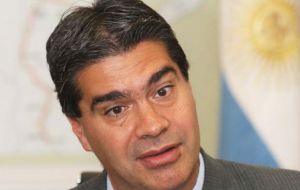 Argentina's new subsidies' scheme will have an "insignificant" impact on prices since the whole package basically involves a 'redistribution' of funds, argued Cabinet Chief Jorge Capitanich, emphasizing the decision aims at "encouraging the rational and responsible use of public services."
In his daily brief to the press at Government house, the head of ministers pointed out that the reduction of public utilities subsidies involves a "redistributing effect" since the 13 billion pesos the government expects to collect will be reassigned to the Universal Child Allowance (AUH) and the Progresar cash transfers payments for most vulnerable sectors.
"There is no possible relation between the reduction of subsidies and the collective bargaining negotiations," Capitanich added, questioning the position by some unions that insist the decrease of benefits in gas and water services by 80% will result in workers' demands for higher salaries. A "strategy" by trade unionists, the minister insisted, that "have nothing to do with reality."
"This progressive and gradual reduction in gas and water comes in a context in which the national state has created a strong process of investment to expand the water pipe fitting and sewer systems as well as the supply of gas in order to guarantee the universal access to services," the head of ministers underlined.
President Cristina Fernández gave her full public support to the new subsidy policies and asked manufacturers to refrain from rising prices. The Argentine leader appeared following an earlier announcement from ministers Axel Kicillof and Julio de Vido that subsidies on gas and water tariffs would be partially removed for private and commercial users, while industrial clients would be untouched.
"We have decided to not cut subsidies for the industrial sector in order to maintain their competitiveness", proclaimed Cristina Fernández.
"This is for all [industries], the small ones, the medium ones and even the monopolies", she explained, while adding that "We hope they will listen to our message".
She assured that her administration "will monitor" the reaction of the different sectors which have been benefited by the new subsidy scheme launched this week.
However in the long-awaited announcement of subsidy cuts for public utilities there was no mention of electricity, and according to official data electricity subsidies, which mostly benefit those living and working in Buenos Aires City and its suburbs, are what costs the government the most money.
And it is the subsidy that is in most evident need of change after more than a decade in which rates have been practically frozen. Almost two-thirds of residents in the Greater Buenos Aires area have not seen their electricity rates increase since 2001.
Last year the Argentine government's spending on energy subsidies far outweighed other economic subsidies, receiving 84.4 billion pesos, a 47% increase from 2012. The largest recipient of these subsidies is the wholesale power sector regulator, Cammesa, which received a total 33.9 billion pesos, while state-owned Enarsa received around 31.2 billion pesos, according to an analysis by the non-profit Argentine Association of Budget and Public Finance Administration (ASAP).