Brazil's 2,3% growth in 2013 came as a surprise, even for Minister Mantega
Saturday, March 29th 2014 - 06:11 UTC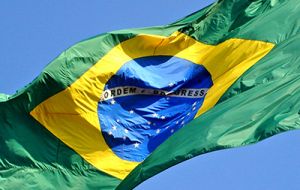 Brazil's economy expanded 2.3% in 2013, compared with growth of 1% the previous year, the Brazilian Institute of Geography and Statistics, IBGE, said this week. The country's GDP for 2013 was estimated at 4.84 trillion Reais (some 2.05 trillion dollars), the IBGE said.
After expanding 7.5% in 2010, the Brazilian economy has struggled in recent years, growing 2.7% in 2011 and just 1% in 2012. The government, meanwhile, has tempered expectations surrounding the country's economic performance in 2014, saying last week it is projecting 2.5% growth, down from an earlier forecast of 4% expansion.
Economic growth in 2013 was mainly driven by the agricultural sector, whose production increased by 7%, followed by services and industry, which saw output rise by 2% and 1.3%, respectively.
In the last quarter of 2013, Brazil's economy grew 0.7% relative to the third quarter and 1.9% compared to the same three-month period of 2012. Brazil's GDP totaled 1.29 trillion Reais (some 548.5 billion) for the October-December period.
Meanwhile, a 6.3% jump in investment last year should over time help ease some of the bottlenecks holding the economy back. It will also give Rousseff a major calling card with business leaders as she tries to atone for policy errors early in her left-leaning presidency and convince them her second term will be more market-friendly.
"It was a surprise even for the government," an upbeat Finance Minister Guido Mantega told reporters. He said the jump in investment should allow for a sustained, "gradual recovery."
Investment was aided by Rousseff's drive to privatize some roads and airports, plus strong domestic production of capital goods. Despite sour sentiment among financial investors, which caused Brazil's Bovespa to be one of the world's worst-performing stock market indexes last year, businesses have generally taken a sunnier view of the country's long-term prospects, helping foreign direct investment remain strong.
Retail sales and industrial data suggest this year will be tough, with several challenges including a severe drought and problems in neighboring Argentina dragging on activity.