Support for Rousseff faltering, but still the strongest candidate for October's election
Saturday, March 29th 2014 - 06:17 UTC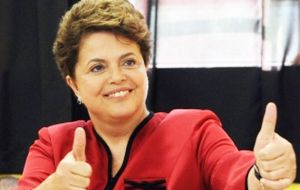 Support for Brazilian President Dilma Rousseff has faltered ahead of October's presidential election, a poll showed Thursday, although she remains a favorite to win a second term.
With a sluggish economy, high inflation and a scandal surrounding Brazil's Petrobras, Rousseff's personal approval rating has fallen to 51% from 56% in November, the survey by the Ibope polling institute and Brazil's National Industry Confederation showed.
Overall support for her administration fell to 36% from 43% in the previous poll, while 27% of those polled disapproved of the government, compared with 20% in November.
The drop in support reflects the challenges that Rousseff must overcome in a bid for re-election on October 5.
Though she and her party still enjoy widespread support because of economic gains made during the administration of former President Lula da Silva, her mentor and predecessor, Rousseff is currently presiding over the fourth year of lackluster growth in Latin America's largest economy.
Stubborn price increases and a lack of investment in the country's public services led to mass nationwide demonstrations last year that have caused many voters to question the governing Workers' Party's 12-year grip on the presidency.
Some voters are also critical of the billions of dollars worth of public funds that have been spent on 12 stadiums for soccer's World Cup, which kicks off in São Paulo June 12.
Struggling businesses, meanwhile, have increasingly complained about what they perceive as the government's short-sighted and interventionist management of the economy. Rousseff has focused mostly on curbing costs through tax breaks and price controls, not the sort of structural reforms that economists have long argued are necessary to make Brazil more efficient.
Recently, Rousseff has also been roiled by the ongoing scrutiny of a 2006 purchase of an oil refinery in Texas by Petrobras. As chairwoman of the company's board at the time, Rousseff approved the transaction, which is now being criticized as too costly.
Still, other recent polls suggest that Rousseff is still likely to win re-election.
An Ibope poll of voter intentions last week found Rousseff has 43% of the electorate's support, against 15% for Senator Aecio Neves of the main opposition party and 7% for Eduardo Campos, governor of the northeastern state of Pernambuco.