Argentina lobbies for Malvinas sovereignty claim in East Timor
Monday, March 31st 2014 - 15:27 UTC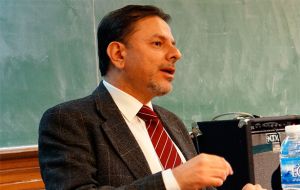 A high level Argentine diplomatic mission visited last week Timor-Leste, in the Asia Pacific area to reaffirm close political, economic and cooperation links between the two countries, and confirm support for Argentina's demand for Falklands/Malvinas sovereignty negotiations with the UK.
Deputy Foreign minister Eduardo Zuaín met with East Timor president Matan Ruak, the cabinet chief and the foreign minister, who, according to a release from the Argentine ministry, "renewed support for Argentina/UK negotiations to solve the sovereignty dispute over the Falklands/Malvinas Islands, in accordance with UN resolutions".
East Timor is a member of the UN Decolonization Committee or C24.
During the round of talks both sides underlined the significance of South/South cooperation and the bilateral agreement signed by the two countries last September 2013. It was also agreed to expand the bilateral agenda on trade, science and technology.
Deputy mnister Zuaín also had time for a conference at East Timor's University where he spoke about Argentine foreign policy and exchanged idea with students on how to improve UN 'democratization' and put end to 'colonial situations'.
Timor Leste, originally a Portuguese colony and later occupied by neighboring Indonesia, in May 2002 became one of the world's youngest republics and latest incorporation to the United Nations. Although as most former Portuguese colonies it is very poor and primitive, the country has vast energy and mineral resources and the economy last year was one of the fastest growing in the world.