Malvinas war veterans plan symbolic repeat of Falklands invasion in Ushuaia
Tuesday, April 1st 2014 - 01:24 UTC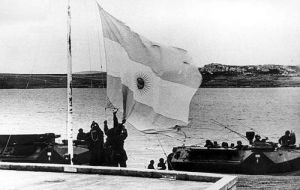 Ushuaia Malvinas war veterans are planning a symbolic repeat of the Falklands military invasion by Argentine forces on the night of April first 1982, although this time the landing will take place along the Beagle Channel coast, according to reports from the capital of Tierra del Fuego in the extreme south of Argentina.
The event is part of the traditional vigil in Ushuaia dedicated to the Malvinas Heroes on the eve of the invasion 32 years ago, and will involve a group of war veterans or next of kin supported by the local kayak club in representation and contribution of the city's community to the symbolic landing.
Later on during the vigil a group of veterans' children will carry the Argentine flag which will be flown on the occasion, and the national anthem will be played by the Argentine navy austral command band, followed by allusive words from the president of the Ushuaia Malvinas veterans, Carlos Llamas.
At midnight there will be a minute of silence to honor the Malvinas Heroes and the inauguration of the "Crosses of the Fallen" exhibition. The crosses are from the Darwin cemetery in the Falklands and were brought to Argentina when the renovation of the memorial a few years ago.
The exhibition which also includes flowers, plaques and rosaries will remain at the Ushuaia Islas Malvinas Plaza until 13 April.
As is traditional the "Malvinas March" will be played by the Navy's band and during the night of the vigil the war veterans and organizers of the event will invite those attending with coffee, mate and fried pancakes (torta fritas). Artistic representations are also scheduled in the main commemoration tent mounted for the occasion a few hours before April 2, which under the Argentine calendar figures as the Day of the Malvinas Fallen and War Veterans.