The poll was completely wrong: Brazilians love their scantily dressed women
Saturday, April 5th 2014 - 05:48 UTC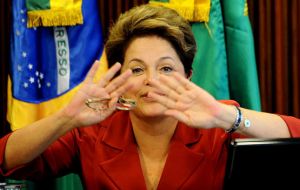 Friday came with a relief for Brazil when a leading economic pollster admitted to having committed a serious error in interpreting results released earlier saying that a majority of Brazilians supported the idea that women in revealing clothes "deserve to be attacked".
The poll released on March 27 appeared to show that 65% of Brazilians believed women in such skimpy conditions "deserve to be attacked," sparking a furious backlash on social media, concern over risks to tourists during the soccer World Cup, and even a comment from Dilma Rousseff, Brazil's first woman President.
But, after more than a week of national soul-searching, it emerged on Friday that the poll was totally wrong.
The government-affiliated think-tank that published the poll said that two graphics were accidentally switched in its presentation, leading to mistaken media reports.
Instead, 26% of Brazilians agree with the "deserve to be attacked" statement, the Institute of Applied Economic Research (IPEA) said. But 70% of Brazilians disagreed "totally or partially" IPEA said in a statement, while 3.4% said they were "neutral."
"We apologize for the trouble caused," IPEA said.
The original, mistaken result raised eyebrows in a country where scantily clad women during Carnival and in places such as Copacabana Beach in Rio de Janeiro are celebrated aspects of the national identity. Still, the poll was picked up by media outlets around the world.
A social media campaign launched by a woman journalist called "I don't deserve to be raped" gained tens of thousands of followers, receiving recognition from Rousseff.
"The organizer of the protest ... deserves my solidarity and respect," Rousseff said on Twitter last Monday.
IPEA said that other aspects of its report still highlighted risks to women in Brazilian society, such as spousal abuse.
"We express our solidarity to everyone who spoke up against violence and prejudice, and in defense of the freedom and safety of women," the IPEA statement said.