Army occupies favela in Rio because police was unable to retain control
Monday, April 7th 2014 - 06:05 UTC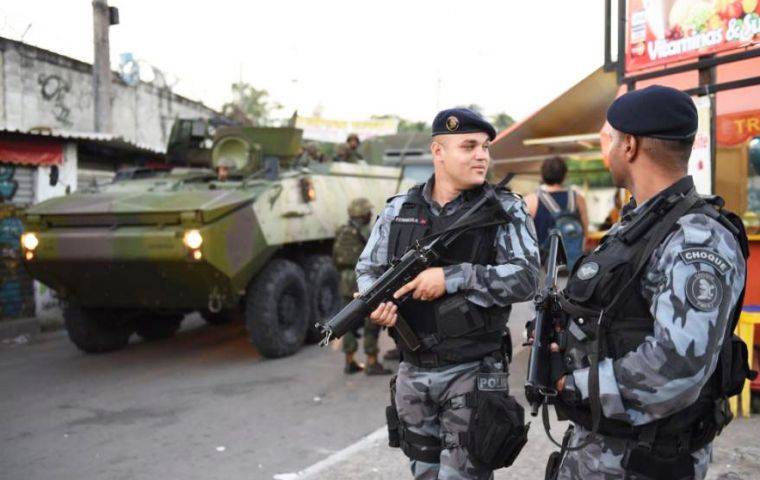 With only 68 days to the World Cup some 2,700 Brazilian troops seized control Saturday of the Mare favela, shantytowns complex, which is considered Rio de Janeiro's last major drug-gang stronghold and located in a strategic area for security reasons: a through area for the city's airport and the Maracaná stadium.
The previously announced operation began at 5:00 a.m. when armored cars and tanks supported by helicopters, rolled into the main "favela" that makes up the complex, home to roughly 120,000 people.
After taking up their positions, the army soldiers and marines who will be in charge of security in Mare through at least July began patrolling different areas of the complex in search of drugs and weapons.
Authorities have not yet provided information on arrests or drug seizures. A total of 2,050 army soldiers, 450 marines and 200 military police took part in the operation.
Army Gen. Ronaldo Lundgren recently told reporters the troops could remain in the area for a longer period of time should the state governor and President Dilma Rousseff, who signed off on the use of the armed forces to occupy the slum, request it.
The troops will patrol and "have been authorized to frisk and arrest people," Lundgren was quoted as saying by an Internet portal of the Globo television network.
Launched 68 days before the 2014 World Cup kicks off in Brazil, the operation will initially last until July 31, although army Gen. Ronaldo Lundgren said the military presence in the complex could be extended further if authorities deem it to be necessary.
Nearly 1,200 Brazilian police, supported by armored vehicles, occupied Mare last week in an initial stage, but the elite military troops began replacing them on Saturday.
Police paved the way for the occupation in recent weeks by maintaining a constant presence on roads leading into the complex and conducting operations in other Rio favelas. Those operations have left 16 dead, eight injured and around 160 arrested in recent weeks, according to the Rio de Janeiro state government.
Rio de Janeiro's main airport and the Maracaná Stadium that will host several World Cup matches, including the July 13 final, are in the area of influence of the favela now militarily occupied.
In the past week police seized a trove of weapons, including 24 grenades, two machine guns, 100 pistols and rifles, and assorted bullets, as well as more than 1,000 tons of marijuana, cocaine and crack.
But despite aggressive efforts to clean up the favelas ahead of the football celebration violent crime remains a problem in Rio.
A huge slum "pacification" program was launched in 2008 and aims to shore up security across the city, which will also host the 2016 Olympics. the Police Pacification Units (UPPs) have been installed in 174 Rio favelas, home to around 600,000 people.
In the six years since the pacification program began, murders in districts with a UPP presence have fallen by 65% and by 48%t in Rio as a whole. But attacks on police have intensified in recent weeks, suggesting drug gangs are refusing to go quietly, or even probably a negotiated truce as has happened in previous occasions with world impact events.