Overwhelming majority of Argentines feel insecurity has become the main problem
Monday, April 7th 2014 - 06:26 UTC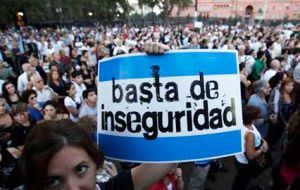 Eight out of ten Argentines feel that insecurity has been on the rise during recent months while 90% believe that it has become the main problem of the country ahead of inflation, unemployment and corruption, according to a public opinion poll published in Clarin's Sunday edition.
The Management & Fit poll shows that 38.7% of those interviewed blame President Cristina Fernandez for the deterioration of insecurity and advance of crime; 14.4%, magistrates; 4.3% provincial governments and 3.7%, police forces. However another 36.3% argue it's a mix of all the above mentioned causes.
Disturbingly 31.4% of interviews favor 'taking the law into their own hands', while 65.3% disapproves lynching, a kind of 'vigilante' attitude that has been happening and spreading to several Argentine cities over the last days.
Insecurity and the crime wave, as the main concern of Argentines, is followed by inflation, 64.5%, unemployment, 50.3% and corruption, 38%.
The poll interviewed 1.600 people, aged 16 to 70 in the first days of April and therefore does not include reactions to Buenos Aires province governor Daniel Scioli decision to declare a state of public security emergency for twelve months given the upsurge or crime and violence.