UN 'deep concern' over violence in Venezuela; supports people's right to protest peacefully
Monday, April 7th 2014 - 06:21 UTC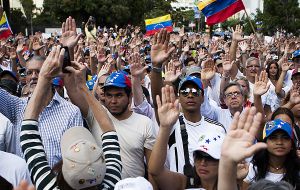 The United Nations office in Venezuela expressed deep concern over the "high human cost" of anti-government protests which have left 39 people dead during two months of unrest. Hundreds more have been detained or injured in clashes with security forces.
Since early February students backed by the opposition have staged near-daily protests against populist President Nicolas Maduro over soaring crime, high inflation and shortages of essential goods.
A UN statement said people had the right to protest peacefully and rejected "any violent act, destruction of public and private property and obstruction to the free movement of citizens" by either side.
It also reiterated the request of UN Secretary General Ban Ki-moon to "ensure the protection of human rights of all Venezuelans."
The UN office in the capital Caracas has been targeted by demonstrators who have camped out at the local headquarters since late March, angry at what they see as an inadequate international response to the deaths of protesters.
The office acknowledged their right to demonstrate peacefully there, but asked protesters to keep road and walkways clear so traffic can pass and people can get into the building.
Venezuela's attorney general admitted last month demonstrators have been abused during weeks of protests and 60 complaints, including allegations of murder leveled at the police, are being investigated.
Meanwhile Spain announced it had stopped exporting riot-control gear to Venezuela's government. The decision made public a day after more anti-government protests flared in response to new charges filed against opposition leader Leopoldo López, according to several news wire reports.
Spanish Foreign Minister José Manuel García Margallo explained his country backed away from transferring the riot-control gear because it did not want to "add fuel to the fire when there is a conflict." The decision, he continued, was made by a governmental panel on March 6, but was only confirmed publicly now.
García-Margallo said Spain has a special interest in Venezuela, home to about 200,000 Spanish nationals.