Falklands fiscal regime and stability remain attractive for oil and gas industry
Tuesday, April 8th 2014 - 22:05 UTC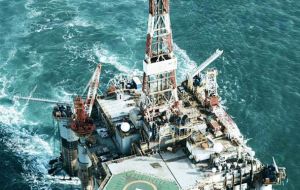 With the Falkland Islands' upstream oil and gas industry still in its infancy, the country's attractive fiscal regime, which boasts a low government take, is expected to remain stable through the short and medium term, says a new report from research and consulting firm GlobalData.
According to the company's latest report, oil and gas companies have been attracted by the Falkland Islands' fiscal regime since it was first introduced in 1996. Given that the country's focus has not yet shifted from promoting exploration, the terms are likely to remain as they are.
While the Falkland Islands' first drilling campaign in 1998 yielded no discoveries, activities in 2010 and beyond have generated increased interest from exploration and production (E&P) companies, due mainly to the Sea Lion discovery. GlobalData therefore believes that it would be a premature move on the government's part to amend the current regime in order to claim a greater share of the benefits from these discoveries.
Mike McCormick, GlobalData's Upstream Analyst for Latin America, says: "The final investment decision on the Sea Lion Project has now been delayed until 2015, and it is unlikely that detrimental changes would be made to the fiscal terms before any development has proven commercial and production has commenced. This is particularly due to the high exploration costs in the area, as well as uncertainties surrounding the Islands' relationship with Argentina.
"Wells to the north of the islands cost around 50 million dollars to drill and those to the south and east can cost upwards of 100 million. Many International Oil Companies that are currently enamoured with Argentina's Vaca Muerta shale prospect will be unable to make investments in the Falklands, out of fear of political and financial repercussions in Argentina."
GlobalData states that operations in the Falkland Islands are likely to remain expensive and, even if the sector undergoes significant growth in the long term, the degree to which terms could be made more stringent, without damaging the industry, would be limited by the profitability of this activity.
Furthermore, while territorial disputes persist over the Falklands and their offshore zone with Argentina, favourable fiscal terms in comparison to those of other areas of similar prospectivity are likely to be required to attract investors.
According to GlobalData, the most significant event related to the Falkland Islands' fiscal and regulatory regime in the medium term could be the government's decision of when to re-open applications for production licenses, since large areas of the offshore area remain unlicensed.
Will Scargill, Upstream Fiscal Analyst for GlobalData, says: "It is likely that the application process will be re-opened if news from the current licenses generates significant interest, but this will depend on the results of drilling programs, such as that expected in early 2015. The long run could bring tougher fiscal terms if the sector undergoes substantial growth, but even then the regime is likely to remain comparatively attractive for its level of hydrocarbon potential." (Penguin News).-