Gibraltar after closer political and cooperation links with Malta
Thursday, April 10th 2014 - 06:07 UTC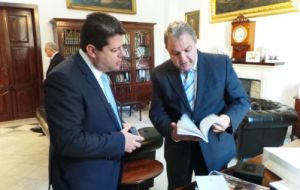 Gibraltar Chief Minister Fabian Picardo met with top officials from Malta this week during a two day visit focused on building links with the island state. The officials included Foreign affairs minister George Vella, Speaker of the Maltese Parliament Angelu Farrugia and Financial Services and Gaming Minister Albert Isola.
"In a gesture of the warmth that characterizes the deep historic relationship between the people of Gibraltar and Malta, the flag of Gibraltar was flown from the Maltese Foreign Office for the arrival and departure of the Chief Minister's delegation," No 6 Convent Place, Picardo's office, said in a statement.
Mr Picardo and Maltese officials discussed the many EU issues which Gibraltar faces and the "culture of compliance" that characterizes the approach of the Government to EU obligations and the meeting "…led to an exchange of different ideas on the potential areas for future co-operation".
With parliament speaker Farrugia, Picardo considered issues related to parliamentary reform and the Commonwealth Parliamentary Association. Farrugia provided the Chief Minister with copies of Maltese parliamentary publications.
The visit continued with a dinner hosted by the Chief Executive of the Maltese Financial Services Commission, Joe Bannister. Earlier in the day the delegation called on the British High Commissioner in Valetta, Rob Luke.
This meeting was both an opportunity to consider the excellent state of relations between the United Kingdom and Malta and a chance to consider how the UK might assist Gibraltar in seeking further to develop bilateral links with Malta, No 6 added in the statement.