Venezuela invites Cardinal Parolin to become "mediator of good will"
Thursday, April 10th 2014 - 06:22 UTC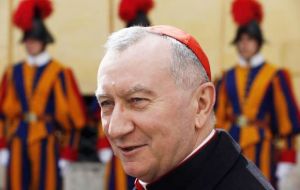 The Venezuelan government formally invited today the Vatican Secretary of State, Cardinal Pietro Parolin, to join the exploratory talks with the opposition as "mediator of good will" in order to find a solution to the violent situation in the country.
"We wish to convey President Nicolás Maduro's invitation to his Holiness Pope Francis for him to join the talks between the government and the opposition as a "mediator of good will", said the government in a letter published on Wednesday in Venezuelan Foreign Ministry website.
In the letter, the chief of Venezuelan diplomacy, Elías Jaua, expressed his hope for Parolin's presence in the government's Peace Conference that aims to "promote a constructive dialogue, understanding and peace"
If Parolin accepts, he will be joining the chancellors of Brazil, Colombia and Ecuador, members of the regional Union of South American Nations (Unasur) as facilitators for the talks.
The invitation to Parolin, Apostolic Nuncio to Venezuela from 2009 to 2012, when Francis named him Secretary of State of the Holy See, was only possible after the agreement reached on Tuesday between the government and the opposition leaders to attend talks to put an end to the political unrest that started last February.