Atlantic patrol HMS Portland busy in Angola and South Africa
Saturday, April 12th 2014 - 08:21 UTC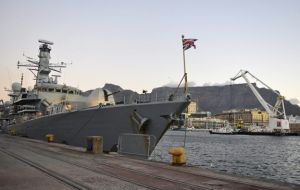 The Plymouth based frigate, HMS Portland currently deployed on South Atlantic tasking reached this week South Africa's Cape Town where she was involved in promoting Britain and in charity activities. Previously she made a short stop in the Angolan capital, Luanda to highlight UK's relationship with Angola and provide training to Angolan Navy personnel.
In Cape Town HMS Portland promoted the theme of all that is great about Britain, highlighting British innovation, technology, business, sport and creativity. For this the ship hosted a demonstration of their capability and equipment along with an official reception, as well as having 150 local school children on board for a day of activities.
The pupils took part in five-a-side football match on a pitch adjacent to the ship and drove the Bloodhound Super Sonic Car in a simulator - which is aiming to break the land speed record at Hakskeen Pan in the Northwestern corner of South Africa in 2015.
They also managed to explore the ship and enjoyed a pirate themed party which was hosted by members of the ship's company.
Amongst the visitors was the Izivunguvungu musical group, an outreach project which promotes music to local disadvantaged children. The group has created a talented brass band of young children from 10 to 18 years old who used the fore castle of the ship as an impromptu stage and performed two musical sets.
These performances not only entertained the ships' company, but also many of the visitors to the Victoria and Alfred Waterfront, who stopped to enjoy the entertainment.
Shortly before sailing into Cape Town HMS Portland also held a series of exercises with the South African submarine Charlotte Maxeke which provided an ideal opportunity for the ship's crew to test their submarine hunting skills.
In Luanda HMS Portland conducted a capability demonstration on board for 150 guests and hosted over 40 senior Angolan military officers to discuss the ships capability as well as maritime security.
Working in partnership with the Angolan Navy, sailors from HMS Portland conducted training exercises in boarding operations, fire fighting and damage control as well as mechanical engineering.
Members of the ships company also enjoyed a trip to the Angolan National Museum of Military History, located in the Sao Miguel Fort, which tells the military history of Angola from 1575 until the present day. The museum visitors were granted the rare privilege of being allowed in to the Agostinho Neto Mausoleum, which was built in honor of Angola's first President.
Rounding off the stopover the Angolan Navy hosted a reception for 50 members of the ships company at the Angolan National Museum of Military History. This event included traditional Angolan food, Angolan dancers and a live band.
The Plymouth-based Type 23 frigate is on a seven-month deployment in the Atlantic, maintaining the continuous Royal Navy presence and providing on-going protection and reassurance to British overseas colonies in the region.
As well as engaging with partner nations along the way, HMS Portland will take part in maritime security operations including counter-piracy and counter-narcotic patrols. She is due to return to the UK later this summer. (RN)