Fiat Argentina CEO calls for one digit inflation to help stabilize production
Wednesday, April 16th 2014 - 04:15 UTC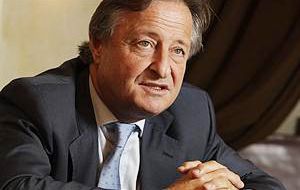 Fiat Argentina's CEO Cristiano Rattazzi compared inflation in Argentina with that of Venezuela and Sudan and called on the government of President Cristina Fernandez to bring it down to one digit and help stabilize production costs and exports.
"The most important thing is stabilization and solving the inflation challenge, because together with Venezuela and Sudan, we are the only countries in the world with two or more digits inflation", said CEO Rattazzi who has always been a reference for Argentine manufacturing.
"I started to worry about inflation when it reached 10% in 2004 and 2005, and now I'm a bit more worried about the whole issue", added Rattazzi.
The Fiat CEO then revealed that car sales in Argentina had plummeted 35% and warned that his main concern is to be able to sustain the rate of production. "Since most of the production goes to Brazil, I need foreign markets, thus we need as soon as possible the opening of exports so we can sell to Mexico and Europe".
Rattazzi made the statements from Cordoba province where Fiat manufactures cars, Iveco trucks and farm machinery, and also complained about fiscal pressure on the sector.
In effect when Argentina devalued the currency last January it also imposed hefty taxes on imported and the most expensive cars.
"This huge tax has had an impact on expensive car sales and with the dealers. I believe that when they thought about the tax they didn't realize that the extra 30% tax was really 42.8% and the 50% tax was really 100%, and with those rates it simply obstructs any undertaking, plus the fact the government ends collecting less taxes".
Nevertheless Rattazzi said that despite Argentina's industrial problems, "Fiat is better, increasing its penetration in the domestic market and in Brazil we continue as market leaders quite distant from the runner up".
The Fiat CEO also revealed that Argentine auto makers market is mainly Brazil which absorbs 85% of production.