Mantega confident that this year the 'the villain factor' in inflation is contained
Friday, April 25th 2014 - 05:41 UTC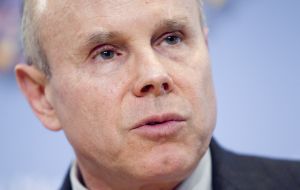 Ever-optimistic Brazilian Finance Minister Guido Mantega said a recent rise in consumer prices was expected, ('there's always a villain factor pushing inflation')' anticipating that in May/June the index will be lower. Mantega also denied local news reports that the government was seeking a change in the index methodology as a way to eliminate the impact of volatile food prices.
"We are having a period of higher inflation that was foreseen. It happens every year," he said. "We had less rain, which caused some food products to go up. But they are already going down," Mantega insisted forecasting that "in May and June [inflation] will be lower."
Brazil's 12-month IPCA price index surged to 6.15% in March, above the central bank's target of 4.5%. The last time the index--which has been above 5% since July 2012--reached the bank's target was in August 2010, making some observers believe that the target is no longer pursued, something the government denies.
In the past year, the central bank has increased its basic interest rate to 11% from 7.25% in an attempt to drive prices down.
Brazil's inflation target has a two-percentage-point range above or below 4.5% in which inflation is tolerated. According to the government, the IPCA must end the year either on target or within that band, and it doesn't matter if the range's ceiling is pierced during the year.
"We will finish the year with inflation below 6.5%," Mantega said.
Another pressure on consumer prices comes from energy. Mantega said it is always possible to increase the allowed portion of ethanol in gasoline as a way to reduce fuel prices, "but at the moment we aren't considering" that option. "We are beginning the (sugar cane) harvest and it will reduce ethanol prices, which will help reducing inflation," he said.
About a quarter of the IPCA index includes prices that the government controls such as fuel and electricity.
"Managed prices have their own dynamics," Mantega said. "Every year there is a villain in the inflation story, but what matters is that it's only one villain and other prices can fluctuate and fall" according to seasonal factors, he said.