Rio's Olympics preparations "plagued with delays"; city full of "social issues"
Wednesday, April 30th 2014 - 09:27 UTC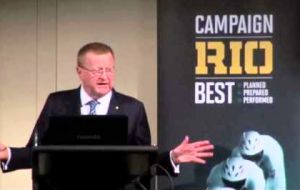 International Olympic Committee (IOC) vice president John Coates has called Brazil's preparations for the 2016 Rio Games "the worst" in his experience and critically behind schedule, but warned there was no "plan B" to find another host.
Attending an Olympic forum in Sydney, Coates told delegates that construction had not commenced on some venues, infrastructure was significantly delayed and water quality was also a major concern two years out from the Games.
"The IOC has formed a special task force to try and speed up preparations but the situation is critical on the ground," Coates said in a statement released on Tuesday by the Australian Olympic Commission, which transcribed some of his comments at the forum.
"The IOC has adopted a more hands-on role, it is unprecedented for the IOC but there is no plan B. We are going to Rio.
"We have become very concerned, they are not ready in many, many ways. We have to make it happen and that is the IOC approach, you can't walk away from this."
The AOC statement also paraphrased Coates describing the Rio preparations as "the worst I have experienced" and "worse than Athens". He added that host city Rio de Janeiro also had "social issues that need to be addressed."
Preparations for the 2004 Athens Games were plagued by delays in construction and service delivery but the sports venues and main infrastructure were ultimately delivered in the nick of time.
The IOC announced a series of measures earlier this month to speed up lagging preparations including extra monitors, project managers and teams of experts.
The first Games on the South American continent have been plagued by delays, rising costs and bad communication between different levels of the Brazilian government and organizers, prompting criticism from international sports federations.
Brazil has been under the spotlight for the far more immediate concern of the soccer World Cup starting in June.
Amid problems with stadium construction, labor unrest and security in other parts of the country, thousands of troops occupied Rio's slums in February to wrest them back from the control of drug gangs and criminals.