Amnesty International accuses Spain of repressive legislation and heavy hand with protestors
Thursday, May 1st 2014 - 10:10 UTC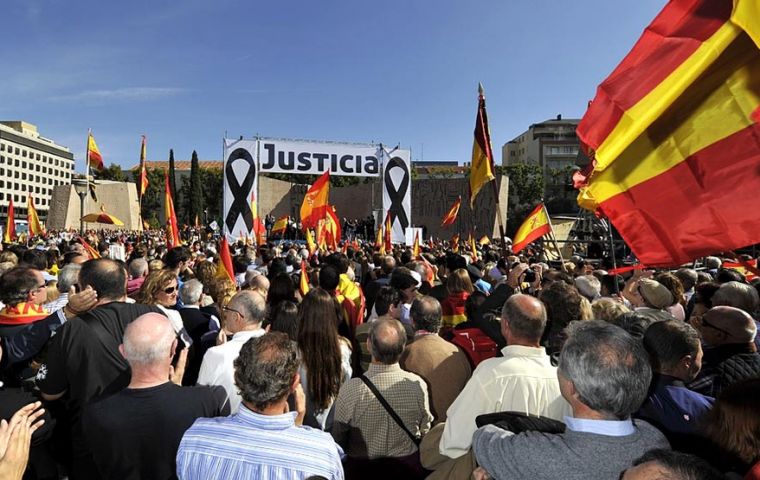 The Spanish government is using the full force of the law to suffocate legitimate peaceful protest, Amnesty International in Spain has said. Jezerca Tigani, Europe and Central Asia Deputy Program Director for Amnesty, published a brief report last week in which he said that the excessive use of force by Spanish police and plans to strengthen repressive legislation are a damning indictment of the Spanish government's determination to crush peaceful protest.
"The Spanish government is using the full force of the law to suffocate legitimate peaceful protest," said Tigani. "The police have repeatedly used batons and rubber bullets against demonstrators, injuring and maiming protestors and by-standers alike. The police act with complete impunity, while peaceful demonstrators and leaders of social movements are continually harassed, stigmatized, beaten, sometimes arrested to face criminal charges, imprisonment and fines."
Amnesty International's report, Spain: The right to protest under threat, sets out to expose violations by police against demonstrators, the lack of accountability for these violations and the determination of the Spanish authorities to strengthen repressive legislation. Since the economic and financial crisis hit Spain, the loss of jobs, austerity measures and the perceived lack of transparency in decision-making, have led thousands of people to take to the streets.
In 2012, there were nearly 15,000 demonstrations throughout Spain, amounting to around 40 per day. In 2013, there were 4,500 demonstrations in Madrid alone: an increase of 1,000 from the year before. But Amnesty says that, as the Madrid government itself has recognized, demonstrators committed violence in less than one per cent of the rallies.
"The police routinely use excessive force to disperse peaceful demonstrations with protestors beaten, arrested, detained, prosecuted and fined. While police may sometimes have to use force in order to maintain public order and safety and prevent crime, they must comply with the state's obligations under international law to ensure freedom of assembly. However, police in Spain have used excessive force with impunity," it says.
"The Spanish authorities are moving in the wrong direction. By further restricting the rights to freedom of expression and assembly they will only increase the chasm between those in power and the people of Spain. Public discontent cannot be stifled with repression," said Jezerca Tigani.