Brazil: Protestors demanding housing block main access routes and camp outside City Council
Thursday, May 1st 2014 - 07:22 UTC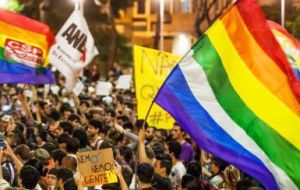 A demonstration supporting access to low-cost housing on Wednesday blocked several stretches of the Marginal Tiete, one of the main access routes to Sao Paulo, Brazil's largest city and financial capital.
The protest was called by a group of residents who are asking the Sao Paulo municipal administration to cancel the order to vacate a plot of land they occupied near the Marginal Tiete.
The demonstrators blocked part of the road in the direction of downtown and tried to stop some of the vehicles that were moving along other routes.
This type of protest in support of dignified housing is becoming a regular occurrence in Sao Paulo, where millions of people live in huge camps that lack basic services such as running water and electricity.
On Tuesday, a protest organized by the MTST Homeless Movement degenerated into clashes between police and demonstrators and destruction of public property.
More than 3,000 people, most of them belonging to MTST, gathered outside the Municipal Council building in Sao Paulo to demand the approval of the city's new master plan establishing new areas in which to build low-cost housing.
Approval of the plan by councilors was postponed until Wednesday, and hundreds of MTST members and supporters returned to the Council building to follow the session.