Brazil raises taxes on beer and sodas; primary surplus slightly down in March
Thursday, May 1st 2014 - 07:33 UTC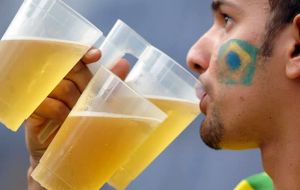 The Brazilian government will raise taxes on beers, sodas and other beverages in a move that will raise an extra 1.5 billion Reais (674 million dollars) in revenue to help meet the fiscal savings goal. Earlier this month, the government had already announced a tax hike on beer to bolster fiscal accounts that have been hit hard over the last three years by rising subsidies, higher spending and an economic slowdown.
The tax agency said late on Tuesday that a new survey showed an increase in the average price of many cold beverages, which means the government can charge higher taxes on those products.
The rapid erosion of the country's finances led Standard & Poor's to cut Brazil's debt rating closer to junk status in March.
President Dilma Rousseff has promised to rein in spending and hike some taxes to improve the fiscal accounts, but many economists say rising energy subsidies will make it very difficult for the government meet its savings target this year.
Rousseff set a primary budget surplus goal equivalent to 1.9% of GDP this year, the lowest target since Rousseff took office in 2011. Shrinking primary surpluses have raised the country's overall budget deficit, which includes interest payments, to a three-year high of 3.26% of GDP last year. In 2012, the deficit was 2.48% of GDP.
The widening deficit and increased debt servicing costs have left limited room in the budget to bolster public investment at a time when the economy is struggling to take off.
The tax agency's chief Carlos Alberto Barreto said in a statement that he hopes that companies refrain from passing the tax increase on to consumers.
Meanwhile it was announced that Brazil's primary budget surplus grew in March from February as the government continued its efforts to shore up public finances and regain credibility with investors.
Brazil posted a primary budget surplus of 3.58 billion Reais (1.6 billion) in March, the central bank said on Wednesday. The figure was up from 2.13 billion Reais in February. The primary budget represents the public sector's excess revenue over expenditures before debt payments.
In the 12 months through March, Brazil's primary surplus was equivalent to 1.75% of GDP, down from 1.76% in February and still below the government's target. The government has fallen short of its consolidated primary surplus target in the past two years.
Brazil's overall budget deficit, which includes interest payments, widened to 13.022 billion Reais in March from 9.516 billion in February. The public sector's net debt was equivalent to 34.2% of GDP in March, up from 33.7 of GDP in February.