Malvinas issue should be addressed at UN General Assembly suggest Argentine lawmakers
Thursday, May 1st 2014 - 06:45 UTC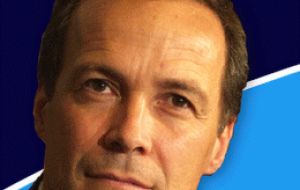 Members from the opposition addressed a letter to President Cristina Fernandez recommending that in the coming UN General Assembly Argentina presents a resolution-draft calling for the Falklands/Malvinas Islands sovereignty claim to be discussed in the assembly and not at the Decolonization Committee or C24.
The letter was signed by lawmakers: Socialist Senator Ruben Giustiniani; Lower House members Ricardo Alfonsín (Radical Party); Adrián Pérez from the Renewal Front and Federico Pinedo, PRO.
The letter points out that "the last time there was a General Assembly resolution refereed to the Malvinas question, favorable to Argentina took place under the government of former (Radical) president Ricardo Alfonsín in 1988".
"The letter was presented to the President's Office secretary general Oscar Parrilli, asking that the negotiation returns to the General Assembly, from where we moved out in the nineties, following the agreements reached by then President Carlos Menem with Britain", said lawmaker Pinedo.
Since then the Falklands/Malvinas dispute has been discussed at the UN Decolonization Committee, "which year after year, unanimously calls on the UK to sit at the negotiations table with Argentina to discuss the sovereignty issue".
The opposition lawmakers initiative coincides next year with the 50th anniversary of the 'historic' resolution from the UN General Assembly accepting the existence of a sovereignty dispute between Argentina and the UK relative to the Falklands/Malvinas Islands.
"This is an opportunity we can't let go by", indicated the release referred to the letter.
Meanwhile in London, Foreign minister of State for Latin America, Hugo Swire informed Parliament that the UK military presence in the Falklands in purely defensive and that it does not deploy or threaten to use nuclear arms in the South Atlantic.
"The military presence in the Falkland Islands is purely defensive in its nature and the number of forces has declined to the minimum necessary to defend the Islands", said Minister Swire in his report.
He added that Argentine president Cristina Fernandez statements referring to the Falklands as a NATO nuclear military base are 'obviously false'.
Minister Swire confirmed that the British ambassador in Buenos Aires told the Argentine Foreign Affairs ministry of its 'disappointment' with the president's statements.
President Cristina Fernandez "again repeated baseless statements regarding the British military presence in the South Atlantic"
Following his description of the Argentine 'invasion' of 1982 as "illegal", Swire rejected point blank that the British presence in the region represents "a military threat".
As to the alleged nuclear arms, "the British position on the matter is clear: the UK ratified the protocols" which indicate that Latin America and the Caribbean are 'a zone free of nuclear arms'.
Finally minister Swire said that the UK fully respects its obligations and underlined that Great Britain does not use and will not use nuclear arms against states with non nuclear arms.