Major dairy farming invester in Uruguay sells land to recoup losses
Friday, May 2nd 2014 - 09:46 UTC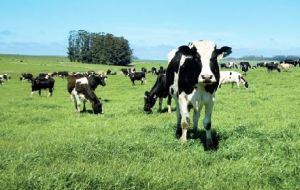 NZ Farming Systems Uruguay, the dairy unit of Singapore-based Olam International in Uruguay, has sold some 7,771 hectares of farm land in Uruguay to local interests for about 53.7 million dollars in gross cash proceeds. The transactions would free up cash "for redeployment into more value-accretive projects," Olam said in a statement.
 About 1,769 hectares in west Uruguay was sold to farming group Nalmer Sociedad Anonima, while retaining access for the next two years via a lease. It sold 6,002 hectares in the east to Galperin Group, and will lease the land back for 12 years with renewal by mutual consent.
Olam expects to book a pretax gain of about 18 million dollars once the transactions are completed in the fourth quarter, it said.
Olam moved to 100 percent ownership of Farming Systems in late 2012, having taken control the previous year. Farming Systems first listed on the NZX in 2007 with the aim of building a dairying business based on New Zealand farming techniques in Uruguay, where land was comparatively cheap and the industry relatively undeveloped.
It was later caught by the global financial crisis, which dried up access to credit, while drought sapped production. Olam came to the rescue with debt assistance.
Olam's Managing Director and Global Head of Dairy, Vivek Verma, said: "The transactions are aligned with Olam's strategy to pursue profitable growth and generate positive free cash flow. Not only do we free up cash for redeployment into other more value-accretive projects, we also retain the upstream dairy farming economics, which remain fundamentally and structurally attractive in the long-term due to increasing demand and supply constraints."
NZSU balance sheet July 2011/June 2012 showed losses of 7.6 million dollars while the previous year they reached 8.7 million. At that moment Nzfsu already belonged to Olam since in September 2010 it had control of the company and by the end of 2012 had 100% of the company. Olam jumped from 18% to 50.1% in September 2010 and then 100% two years later.
NZSUR had until this last operation 28.000 hectares of land and 5.600 on lease and operated 49 dairy farms. Olam is a multinational corporation operating from Singapore and was on several occasions named among Forbes Asia Fabulous 50.