Petrobras concessions in Argentine Patagonia extended for ten years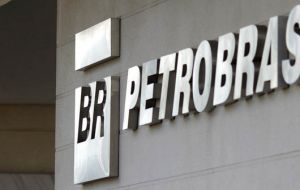 The Argentine unit of Brazilian state-controlled oil giant Petrobras has signed an agreement with the Patagonian province of Rio Negro that extends its three concessions in that region for 10 years. The new deal was inked after the company renegotiated its contractual conditions with the provincial government.
"Petrobras Argentina plans to invest an estimated total of 819 million dollars in hydrocarbon exploration and production from the effective date of the agreement to the new expiration of the concessions," the company said in a statement.
The agreement, which still requires the approval of the provincial legislature, establishes "the payment of a fixed bonus of 92.8 million and the payment of a complementary contribution equivalent to 3.5% of hydrocarbon output (in addition to a 12% royalty payment)," the company said.
"Petrobras Argentina also will invest an additional 18.5 million in infrastructure and equipment for health and educational institutions and state agencies," it added.
The provincial government and Petrobras Argentina renegotiated the conditions for oil and gas development in Rio Negro after the provincial legislature passed a new hydrocarbons law in 2012.
The new regulations affect concessions held by 10 companies in 23 areas of northwestern Rio Negro.
The goal of the new regulations and the renegotiation of the contracts is "to increase hydrocarbon reserves and production" and "boost investments in exploration," the provincial government said.
Petrobras Argentina is the first of those companies to reach an agreement with Rio Negro's government.
Petrobras Argentina is the second-largest oil producer and fourth-biggest natural gas producer in Rio Negro, accounting for 22 percent and 7 percent of output, respectively, based on 2013 figures