Uruguay confirmed a third pulp mill with construction beginning in 2017
Friday, May 2nd 2014 - 10:00 UTC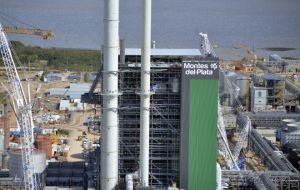 Uruguay has confirmed a third pulp mill to be built to the north east of the country in Cerro Largo, while the second one, Montes del Plata on the River Plate and recently finished is to be formally inaugurated sometime between May 15 and 25, although production will be delayed for a few months since the second wharf is unfinished and the effluents plant non commissioned.
Montes del Plata sources, --which is a joint operation of Sweden-Finland's Stora Enso and Chile's Arauco-- admitted that the effluents plant will probably take some time before official commissioning because the final environmental licensing is still needed.
"The second wharf is not necessarily an impediment since we have a first one, 220 meters long, which is already operating with fuel, chemicals and other inputs and has also been used to store wood to keep us busy once production begins", said the sources.
The second wharf, once finished will be operating round the clock with the barges that come down the river Uruguay full of tree trunks.
Once all is in order the pulp plant will need six months to reach full production, 1.3 million tons annually. With a capacity of 1.45 million tons Montes del Plata belongs to the short list of the largest pulp mills in the world. "This year production will reach a maximum of 400.000 tons", estimated the sources.
Final employment will be in the range of 350. During the construction period which demanded almost 1.5 billion dollars, an estimated 6.000 labor and different tradesmen were working at the site.
As to the third pulp mill it is to be built in Cerro Largo by UPM which already owns the first mill in Uruguay, in Fray Bentos across from Argentina and which triggered a long standing conflict with the neighboring country.
The governor of Cerro Largo, Sergio Botana, said the mill will most probably be located on the Tacuarí river, and the area was chosen because it is a forestry priority area with sufficient trees for the plant.
However, there is much work ahead, and the project is not expected to take off until 2017. UPM made no comments on the announcement.