Falkland Islander running for mayor of a Santa Cruz town
Saturday, May 3rd 2014 - 06:29 UTC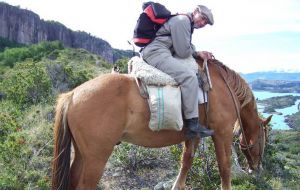 A Falkland Islander, resident in Argentina is running for mayor of the city of Puerto Santa Cruz, in Patagonia's Santa Cruz province, which is the Kirchner's couple political turf. James Lewis is backing Eduardo Costa from the opposition Radical party, the current mayor of the small town of 3.500 people, who next year is confident can become the province's next governor.
Lewis, 62, was born in the Falkland Islands, son of Falkland Islanders who arrived as a one year old to Santa Cruz province, more specifically the town which he hopes to rule next year, and according to Argentine media, is the only Falkland Islander to have done his military service in the Argentine Army.
The Radical party, which in the small town next to the River Santa Cruz competes under the banner of "Union for a better life", said it was an honor to have Lewis as a candidate because of "his personal conditions and his whole life commitment to the city". They added "he's a person of many qualities and he's an expert in provincial affairs".
Apparently Lewis currently is on leave from the local "Pioneers Museum" where he is the director, and is working in the offshore oil rigs. He is also linked to sheep farming, and in previous governments was Director of Tourism of Puerto Santa Cruz.
The media speculates that both Costa, running for governor, and Lewis have a good chance of being elected since in the last legislative ballot the Radical party gained 44% support. Furthermore retreating Kichnerism is seriously split in Santa Cruz and the current governor Daniel Peralta has anticipated he will be running for a third mandate with the support from the Justicialista Party, which is also weakened by internal disputes.
Puerto Santa Cruz next to the estuary with the same name is one of the original settlements of Santa Cruz and until 1904 was the capital of the province.