Uruguay interested in joining negotiations to liberalize trade in services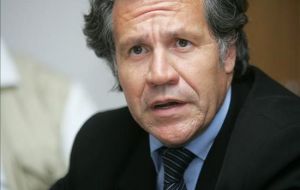 Uruguay has expressed an interest in actively participating in negotiations to liberalize trade in services in the framework of TISA, Trade in Services Agreement which recently held its seventh round of talks in Geneva.
Ahead of the TISA seventh round of discussions, Uruguay confirmed in writing its interest in the negotiations. "Uruguay shares the objectives of the TiSA negotiations and will respect the results of the negotiation achieved by other participants if it joins" reassured Minister of Foreign Affairs Luis Almagro.
"The European Union welcomes Uruguay's interest in the TISA negotiations and strongly supports its participation from now onwards" confirmed EU Trade Commissioner Karel De Gucht in an official release.
TISA is an initiative open to all World Trade Organization members interested in further liberalizing trade in services. Launched in March 2013, the talks currently involve 23 WTO members, although the negotiations are not being held within the WTO itself.
Last year, Uruguay expressed its interest in joining TISA and in September submitted its application to participate in the talks.
"The EU trusts that the reassurances provided by Minister Almagro will clear the way for the support by all other TISA participants to the swift incorporation of Uruguay to the negotiations", added the release. "The EU and Uruguay look forward to working together towards an ambitious and open agreement".
TISA negotiations cover all sectors, including information and communication technology (ICT); logistics and transport, financial services and businesses services.
The EU – like the other participants – want negotiations to go beyond the opening up markets for services: the aim is also to develop new rules on trade in services.
The current participants in the negotiations are Australia, Canada, Chile, Chinese Taiwan, Colombia, Costa Rica, the EU, Hong Kong China, Iceland, Israel, Japan, Korea, Liechtenstein, Mexico, New Zealand, Norway, Pakistan, Panama, Paraguay, Peru, Switzerland, Turkey, the United States.
For the EU, trade in services is of strategic importance with the sector accounting for some three-quarters of EU GDP and EU jobs. Within the EU, cross-border trade in services accounts for around 30% of EU trade, and Foreign Direct Investment (FDI) in Services (to be covered by the scope of the future agreement) represents around 70% of the EU's FDI flows and around 60% of our FDI stock.