Dilma pledges economic growth with contained inflation following negative stats
Wednesday, May 7th 2014 - 07:22 UTC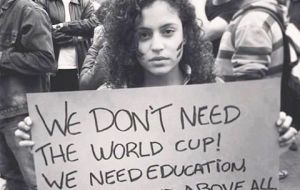 Brazilian president Dilma Rousseff said in a statement that her government ensures sustained economic growth, with contained inflation. The announcement followed market estimates saying that Brazil's GDP expansion this year would be down to 1.63%, below official and private recent estimates above 2%.
"Our government will always be the government of growth with stability, rigorous control of inflation and the correct administration of public monies", pledged Rousseff who has seen her support in the polls exposed to sustained erosion.
According to a Monday markets' report the Brazilian economy will expand 1.63% this year, which is below the 1.65% of a previous recent report, while inflation was forecasted to be in the upper limit of the target established by the government, 6.50%.
The UN Conference on Trade and Development, UNCTAD, estimates that Latin America's largest economy will be expanding 1.8% this year, while Guido Mantega's Finance ministry stands to its 2.3% to 2.5% forecast.
Rousseff, who this week was confirmed as her ruling party's candidate for next October's presidential election, insisted that the recent adjustment of the minimum wage was intended to help bring stability and opportunities for the many tens of millions of Brazilians making that money.
"Some people question our minimum wage policy and argue it has grown too fast, but they don't understand that more income for workers and their families means more activity", insisted the president who attacked the opposition for wanting to limit wages allegedly to combat inflation.
Dilma Rousseff announced her re-election bid only this week and next to former president Lula da Silva, who confirmed his full support for her, after strong demands that the Workers Party leader should be the October presidential candidate given the eroding support of his protégé and poor performance of the Brazilian economy.
Public opinion polls still give the president winning on 5 October but margins are diminishing and she will have to face a run-off, something which was considered out of the plans just a few weeks ago.
Likewise there are fears that the coming world cup that begins next month could backfire for the president and her government if, as anticipated by some political experts, people turn out into the streets to complain about the billions spent on stadiums and other infrastructure while government services, education, healthcare, security and transport are considered dreadful. "European taxes and African services", is the motto.
A year ago, when the Confederations Cup, a rehearsal of next month's global event, the Rousseff administration and the whole political system were taken aback by the spontaneous demonstrations of millions of Brazilians, for over a month, protesting originally bus fare hikes, but which spread to other shortcomings and demands.