Falklands: Slow start but sprint finish for 2014 squid fishery
Wednesday, May 7th 2014 - 01:44 UTC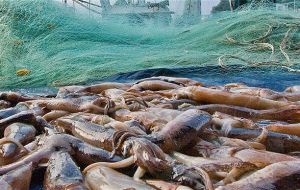 In the last 25 years, the squid fishery has been one of the major contributors to the economy of the Falkland Islands. It is unique in the world as about 80 per cent of the total annual catch is squid. Both Illex and Loligo squid have annual life cycles, with a new generation recruiting into the fishery every year
Recruitment abundance is a result of many ecological factors such as water temperatures, food availability and currents, with the abundance of parental stock having relatively minor effect. This is why planning and exploitation of squid stocks is a challenging task not only for fisheries managers but for the fishing companies as well.
The Falklands largely missed summer for the second year in a row. Frequently overcast skies and uncommon south easterly winds decreased sun radiation in December 2013–February 2014.
Sea surface waters around the Islands were heated to a mere 8-9ºC, approximately three degrees below the normal average for this time of the year. It was known that cold waters could deter Illex squid migrations to Falkland waters as seen in the poor year of 2002.
But, good news about high abundance of Illex squid was received in January-February from the high seas region; international waters located outside 200 nautical mile conservation zones. More than 150 jiggers and trawlers fished there and had good catches attaining 15-20 tons of squid per fishing day.
The question however remained whether these abundant aggregations of squid would move south to Falkland waters. Fortunately, water cooling affected only near-surface layers, with deeper waters on the shelf having normal temperatures.
The inflow of relatively warm shelf waters formed late this year, in the beginning of March. Squid of the South Patagonian Stock migrated from the high seas in that inflow, and concentrated along its eastern edge. By the end of the first week of March, some 90 jiggers started to work within the boundaries of the inflow.
Their daily catches improved to 18-20 tons per night, and during the second week almost the whole fleet (105 vessels) were fishing for Illex there. Catches gradually increased to 40-55 tons per vessel/night, with maximum catches reaching 165 tons per vessel/night.
Until now, the whole fleet continues fishing for Illex in the boundaries of the inflow, with consistently high catches (average 46 tons per vessel/night). On April 22, the total daily catch of Illex by all vessels fishing inside FICZ/FOCZ recorded the highest value since the beginning of the regulated fishery in 1987.
A total of 6,701 tons of squid was taken; enough to fill up a whole reefer in just one day! Up to now 187,500 tons of Illex have been caught in Falkland waters, making it the second best Illex catch after the bumper year of 1999.
Some trawlers had high catches of Illex in the west of FICZ (20-30 tons per day). These catches are a reliable indication of good fishing conditions at least until the second half of May.
The other commercial squid fished around the Falkland Islands is Doryteuthis gahi (aka Loligo) and now more commonly referred to as 'Falkland Calamari'.
The abundance of this squid was estimated during a survey carried out onboard a commercial trawler in February before the start of the first season. It was calculated that at least 35,000 tons of Loligo was present in the fishing zone, representing the highest first season survey estimate since 2010.
The Loligo fishing season started on February 24, and confirmed the survey results. Daily catches of all 16 licensed trawlers were high, averaging 24-30 tons per day.
Vessels had exceptionally good catches in the northern part of the Loligo Box where migrations of quite small (8-9 cm in length) and immature squid took place from their near shore nursery grounds to offshore feeding grounds.
However, colder than usual water temperatures around the Falkland Islands delayed migrations of the bulk of Loligo stocks to their feeding grounds. During the first three weeks of March, daily catches fluctuated between 10 and 15 tons per vessel/day, which is low.
A real breakthrough happened on March 21, when several vessels found dense concentrations of Loligo in the northern part of the Loligo Box. A combination of south-westerly winds and a strong Falklands Current contributed to aggregating Falkland calamari in that relatively small area. During the next five days, the fleet fished squid up to their freezing capacity with average daily catches of 66.5 tons per vessel (maximum 97.6 tons).
On March 23, the total daily catch of the fleet hit the record since 1996 of 1,102 tons of squid per day.
As expected, these aggregations were soon fished and dispersed to more 'normal' levels. By March 28-29 the vessels returned to still high daily catches of 35-45 tons. Another peak of abundance occurred during the second week of April in deeper waters of the northern area (50-65 tons per vessel/day).
Despite the slow start, more than 28,000 tons of Loligo was taken by the end of the first season, making it the third highest Loligo catch after 2010 and 2012.
Regular monitoring of the total biomass of squid by the Fisheries Department ensured that conservation targets were met to keep the stocks of Falkland Calamari at a sustainable level. (Penguin News, 01 May 2014).-
Sasha Arkhipkin,
Senior Fisheries Scientist,
Falklands' Fisheries Department