Repsol sells YPF stake for 1.25bn dollars to Morgan Stanley; keeps 0.5% share
Thursday, May 8th 2014 - 04:57 UTC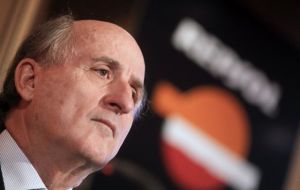 Spain's Repsol oil and gas company says it has sold an 11.86% stake it owned in Argentina's YPF energy company to Morgan Stanley for 900 million Euros (1.25 billion dollars), effectively leaving it without a stake in a company it once controlled.
Repsol SA told Spain's market regulator Wednesday the stake represented 46.6 million shares. It said it now owns less than 0.5% of YPF.
Repsol recently accepted a 5 billion dollars offer from Argentina as compensation for the country's seizure of Repsol's controlling stake in YPF in 2012. Argentina claimed Repsol did not do enough to develop YPF's resources.
Spanish oil major Repsol has sold most of its remaining stake in Argentine energy firm YPF for a pre-tax capital gain of 622 million (447 million Euros), sources at the Spanish company said on Wednesday.
The sale of the 11.8% stake in YPF reduces Repsol's interest in the company to less than 0.5%.
Repsol sold 46.6 million ordinary Class D shares for 1.26 billion to Morgan Stanley, according to the sources, who said the shares would be placed on the market.
The sources said Repsol made a "strategic" decision that was not part of the 5 billion compensation deal it recently reached with the Argentine government, which seized a 51% stake in YPF from the Spanish oil major in 2012.
In carrying out the expropriation, Buenos Aires alleged underinvestment in the Argentina's hydrocarbons sector. Despite still holding an approximately 12% stake, Repsol did not name any representatives to YPF's most recent shareholders' meeting.
Repsol Chairman and CEO Antonio Brufau said in late February the company planned to sell the dollar-denominated bonds it received from Argentina in the settlement, as well as its remaining stake in YPF, within two years.
Repsol set a goal of raising between 6 billion and 6.5 billion from those transactions.