The 'indigence' basic food basket in Argentina climbed 40% in 12 months
Friday, May 9th 2014 - 07:20 UTC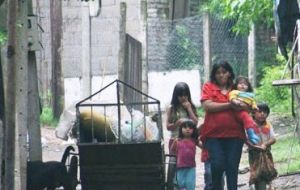 An average Argentine family during the month of April needed 4.779 Pesos (approx. 600 dollars) not to be included in the poverty category, which represents an increase of 1.6% over March, of 20% in the first four months of the year and 40.5% in the last twelve months, according to the latest report from the Latin American Economic Research Foundation, FIEL.
According to FIEL, the basic food basket in the City of Buenos Aires, with which the indigence level is measured, a couple with two children needed 2.700 Pesos (approx 340 dollars) in April which represented a 2.5% increase over the previous month.
During the last twelve months "an additional 1.377 Pesos were needed for an average family to cover the cost of a poverty basket". The difference results from comparing the total Basic Basket in April 2013 with the 4.779 Pesos of the same month this year.
This means that the Basic Food Basket in the first four months of the year increased 20.08% and climbed 45.5% compared to a year ago. Likewise the Total Basic Basket, jumped 19.4% in the four months running, and 40.5% over a year ago.
The Basic Food Basket only includes food items while the Total Basic Basket adds services such as power, cooking gas, transport, clothing and other items consumed by a family during a month.
Argentina's stats office Indec has ceased to publish data referred to the two basic baskets, food and total.