Falklands' Governor role increasingly moving away from an executive position
Saturday, May 10th 2014 - 07:30 UTC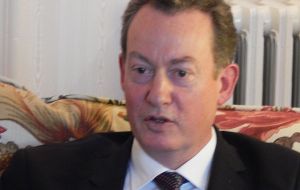 The role of the Governor has moved away from an executive position within the Falkland Islands according to Governor Colin Roberts, who only last week was inaugurated in the post. Speaking with Penguin News, the Foreign Office diplomat explained what he saw as his role, and how the position itself has changed over the decades.
"There is a direction of travel in this which is ensuring that the elected representatives are taking the decisions, making the strategic direction and essentially running the Falkland Islands" said Governor Roberts.
The Falklands governor acknowledged that although this move follows constitutional review (when with each review the role of the Governor has altered) "in between these big revisions there is still a trend," and that involves the Governor focusing more on the very specific roles which are awarded to him under the constitution, primarily comprising security and foreign relations.
As such there is a place for the Governor to have a high profile on international issues when speaking to the foreign press, he said when asked if he, like the last Governor, would be as willing as his predecessor to speak to visiting international media.
He added: "but it is also important that the Governor doesn't take away the role of the elected members of the Legislative Assembly, it ought to be the people responding on most Falklands issues".
Asked if he saw himself as an advisor to MLAs, or even a, "referee or Chair," he said: "part of the constitutional role is to Chair Executive Council and in that sense that function comes out, but I think it is best to look at it as not just trying to describe the function but ask what is the purpose of it?"
That purpose he said was to make certain there was an infrastructure and context in which MLAs made and implemented their decisions and that included making certain the Falklands was secure in defense terms and also in terms of the rule of law.
Asked what he predicted would be the line on the Falklands issue taken by a new Argentine Government following the Argentine General Elections in October 2015 he said: "Obviously a lot of people including me are extremely interested to hear what will be the outcome of the elections in Argentina. I feel that in relation to the Falkland Islands it would be difficult to see the situation getting significantly worse. On the other hand I'm not sure that I see the evidence within Argentina at the moment that there is going to be any radical change of policy or public opinion."
Governor Roberts added however that the reality is that the next Argentine government, "has a lot of things to worry about in Argentina," and so, "they might find that they have less time to devote to making life difficult for Falkland Islanders."
Mr Roberts said it would be a mistake to be overly optimistic, but FIG and the British government will deal with whatever does come out of Argentina after the election. (Penguin News)