Mujica admits Mercosur problems but praises Brazil's open market attitude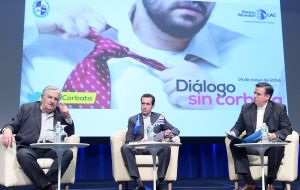 In a 'dialogue without ties' at the World Bank President Jose Mujica said that Uruguay is a 'frontier country' which history did not want it to belong to any of the two big neighbors (Argentina and Brazil) so that the Atlantic ocean would not be left to an only country.
Mujica is in his first official visit to the US and has had a packed agenda of meetings and interviews which have included President Obama, Secretary of State Kerry, the US chamber of commerce, and the Washington University among others. On Thursday his last day in Washington he will be received by the Organization of American States Permanent Council.
Next to the bank's vice-president Jorge Familiar and with CNN journalist Juan Carlos Lopez acting as moderator Mujica admitted that Mercosur has its problems but 'we have the doors of Brazil open to us" and again admitted as before other audiences that Uruguay has infrastructure and qualified labor challenges.
However the president started with a brief review of Uruguay's history, once renowned as the 'Switzerland of the Americas' because of its audacious reforms, making knowledge and culture the priorities.
But 'that is long over' and once the two big wars of last century were over, 'when we benefited enormously' and peace prevailed, difficult times emerged. The country bought a lot of junk and "our terms of global trade deteriorated awfully" and so did investment and the country's capacity to honor debts.
And then China, and the hungry Chinese surface and (commodities) prices started climbing. But what really made things change, according to Mujica was investment, which was the feeblest of the Uruguayan economy indicators.
But "we attracted direct foreign investment and there was a great leap forward. And I had to suffer strong criticism for opening the door to 'imperialism' and that came from my own political grouping.
"We have many infrastructure problems, and we are running from behind and a giant effort is needed, but we are going to build what is needed", pledged Mujica who also admitted that Uruguay is a country of 'veterans' with few poor people, but they are the only to have children in abundance. Middle class kids marry at 30, 35, past the good age for children, so that means the old folks will have hard times"
That is why Uruguay must combat poverty and prepare its people as qualified labor, otherwise...
Regarding trade Mujica praised the government of Dilma Rousseff's amplitude, despite Mercosur problems and questioned those who insist with a free trade agreement with the US: "we must finish with the FTA myth, it's not the solution for our problems"
For this same reason "we can't keep fighting with our neighbors but we will always have an outside option; that is the history of Uruguay, between its two powerful neighbors".
Mujica also anticipated the problems he will face when he returns to Montevideo from his own political coalition, "they are going to say I was soft with imperialism; but no, I wasn't soft or wet. We are trying to sell more Uruguayan beef and lamb".
As to drugs and the recent measures to legalize cannabis and combat organized crime, Mujica was caustic: "what has most served of US policy on drugs is when they didn't get involved".
He also asked not to be compared with Africa's Nelson Mandela, "I'm not Mandela, I'm Pepe a simple guy from down the block. I asked for cards and I was chosen to play this game".
Looking back to his time in prison when he was a member of the urban guerrillas Tupamaros, "I spent a lot of time in jail, but not because I'm a hero, but rather because I was caught; we must demystify all this, but while in jail I was convinced that once out I would continue to fight".
He called on young people not to feel defeated, "defeated are those who cease to fight, and I'm not talking about politics, I'm talking about life's traps: dry the tears and start again".
"I don't have memory to be rancorous, not because I lack memory but I don't cultivate the past. Past is good to learn and to keep going", said the Uruguayan president who forecasted that when his mandate is over 'I won't become an old man giving conferences, I'd rather teach children to cultivate the land and learn to love nature".
Finally "changing the world is an enormous task, I tried it as a young man and failed, but I learnt a commitment to live, and living is a miracle".