UK Labor ratifies full support for Gibraltar's self determination
Thursday, May 15th 2014 - 07:00 UTC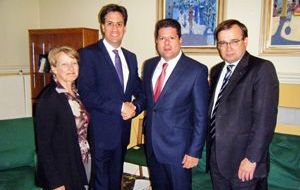 Britain's Leader of the Opposition, Ed Miliband and Clare Moody, Labor candidate for the South West and Gibraltar in the coming European Parliamentary election have confirmed that Labor fully supports self determination for the people of Gibraltar.
In a meeting on Tuesday at the House of Commons, MP Miliband and Gibraltar Chief Minister Fabian Picardo discussed a wide range of subjects including matters related to gaming, financial services and defense, reports the Gibraltar Chronicle.
"This is the fourth time I have had a chance to discuss Gibraltar-related matters with Mr Miliband. His position in support of the right of self-determination of the people of Gibraltar and of our rights in Europe is clear and resolute" said Chief Minister Picardo following the meeting.
"It was also clear to me that he understands the clear message we are sending the UK in relation to the Point of Consumption Tax and the standards of regulation that will be applicable to operators who wish to take bets in the UK. During my time with him, I briefed Mr Miliband on the continuing problems at the frontier", added the Gibraltar leader.
Gibraltar sources said that the statement is yet another strong signal that Labor has moved on from its 2001 joint-sovereignty stance, during the time of PM Tony Blair.