YPF wants to create a G10 of Latin American state oil companies CEO's
Friday, May 16th 2014 - 09:37 UTC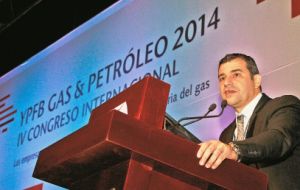 Argentina's YPF CEO Miguel Galuccio proposed on Thursday in Bolivia a G10 of Latin American state owned oil corporations to strengthen their bargaining power based on their resources and development synergy.
"It's an idea I want to talk over with the rest of my peers, creating a G10 that could end up as G12, of presidents of state owned companies" said Galuccio in Santa Cruz, during the IV Oil and Gas congress organized by the Bolivian state oil company YPBF.
"Bolivia's president said that having energy is power, and I think that making it a group and looking for synergy will give us even more power" added Galuccio referring to the opening words from Bolivian president Evo Morales.
The potential group could include, Argentina's YPF; Bolivia's YPFB; Mexico's Pemex; Brazil's Petrobras and Venezuela's PDVSA, among other government oil companies.
During the opening speech of the congress, Morales said that countries with certain political power in Latin America or in the world, are not those that have arms or economic resources, but rather those that control energy sources.
"The country with energy is the country that has power. It's not the one with missiles, it's not the one with ample financial resources. I'm just saying this is what I think and the conclusion I have reached", said Morales.
The Santa Cruz congress which closes on Friday is addressing the role of government owned oil and gas companies given the new gas scenario in the region and globally with the US becoming again a leading producer.
Galuccio said that Latin America is a region with no conflicts and with energy integration bridges, with gas pipelines that cross several countries, with power stations jointly operated and with other forms of energy exchange along border lines.
YPF CEO underlined the synergy potential of state owned oil companies given all the knowledge acquired in the different countries through the development of the hydrocarbons sector, and pointed out that this form of shared work has not been exploited.
Following on the idea Galuccio said that he will propose to his peers a forum in 2015 of state oil corporations to keep advancing on the initiative in the framework of energy integration.