Brazilian police tells tourists that if attacked "don't fight, scream or argue"
Saturday, May 17th 2014 - 09:03 UTC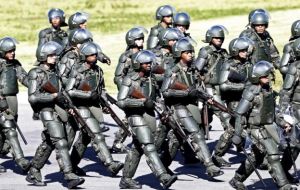 If attacked in Brazil: "Don't fight, scream or argue". That's the advice being offered to tourists by São Paulo Civil Police ahead of this year's World Cup games which authorities have revealed will be enforced by armored, "RoboCop"-styled riot police.
The alarming safety precautions come as 3.6 million tourists are expected to flood the country, which has been labeled "critical" for crime by the US Department of State for the last 25 years.
The advice to tourists on if attacked, first reported by Sao Paulo news site Estadao may sound contradictory of how a victim may react elsewhere, but in Brazil, some say it may very well save your life.
In Rio, where seven games will be hosted including the final July 13 match, safety precautions have gone so far as issuing 200 sets of "RoboCop" armor for its officers according to media reports.
The black, light-weight uniforms are described as flame resistant up to 800 F, while equipped with a pepper spray mask, pistol belt, stun gun, handcuffs and baton.
They also happen to look stellar while charging on a horse, as seen in a video obtained by Estadao, which appears to show the uniformed officers riding with long swords drawn as if jousting.
Lt. Col. Wagner Villares, commander of the military police branch The Major Events Police Battalion, said the uniforms will protect some of his 600 officers from any physical attacks by the predictably rowdy soccer fans.
"The plastic uniform is resistant to knocks and blows," he told news website Ultimo Segundo, according to the National Post. "Underneath the plastic that covers the back and the chest, there is another protective layer that absorbs and spreads the force of a blow."