Argentine Vice-president under criminal investigation; calls for Boudou to step down
Monday, May 19th 2014 - 08:45 UTC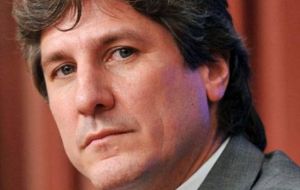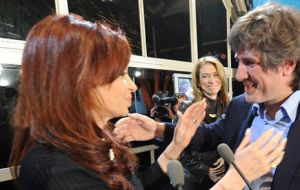 Argentine Vice-president Amado Boudou said he was not planning "an absence of leave" from office because that is not the style of President Cristina Fernandez' administration following a federal court confirmation of a criminal investigation into his alleged involvement in the sale of a minting company.
"It never crossed my mind to ask for an absence of leave. First, because I'm convinced of what I'm saying and doing. I have a job to accomplish and I perform my duties every day", said Boudou on Sunday in a government sponsored television program.
"Besides, if they are after my head, I'm not giving up. Our leader (Cristina Fernandez) has undergone several health episodes and government did not move one inch. This has been the style of this government and if they think (the opposition) that the vice-president is a weakling they are wrong".
Calls for Boudou to take leave of absence from office have been mounting among opposition politicians after the Federal Criminal Appeals Court ordered the continuation of an investigation into his role in the sale of the former Ciccone Calcográfica minting company.
The leaders who joined the choir were Radical Party (UCR) president Senator Ernesto Sanz, Renewal Front lawmaker Graciela Camaño, UNEN Broad Front leader Margarita Stolbizer and UCR lawmakers Miguel Bazze and Manuel Garrido, who coincided that the vice-president should leave his post over accusations that he used his government position to inappropriately influence business operations in favor of the minting company.
However, Boudou's attorney Diego Pirota completely denied this was the case, warning of the "influence of the media" in the investigation and assured that if the vice-president wasn't "in jail" it must be because "there weren't any judicial reasons for him to be there."
According to the ruling "Taking into account these facts and the seriousness of the situation, the vice-president should request to be put on temporary leave and comply with the justice system until it determines what really happened in this case," said Sánz. The UCR leader added that Boudou has been excluded from the inner circle of power of President Cristina Fernández due to this issue.
Following the same line, Bazze (UCR lower house bloc vice-president) urged Boudou "to remove himself from the post and cooperate with the judicial investigation."
For his part, Garrido considered that "if the case against the vice-president progresses, his situation and him continuing to be in that position will become complicated." He warned that if the court calls on Boudou to be questioned, the case will end up turning into a formal investigation.
Meanwhile, Stolbizer recalled that her party had requested "for a long time that (Boudou) be removed from government" due to his involvement in the Ciccone affair.
"At some point, the president will have to take full ownership over her own errors and decisions," said the Broad Front-UNEN leader, while the Renewal Front's Camaño demanded that the government official remove himself from his post in some form or another.
Buenos Aires City lawmaker and ruling Peronist party president Víctor Santa María recognized that "any type of political scandal" is not good for the Peronist party. "Any political scandal isn't good, I don't know the issue well enough. But I know Amado (Boudou) and he seems to me a good political leader, that worked hard as Economy Minister and when he was the head of the ANSeS social security agency," concluded Santa María.
Boudou has been in the eye of the storm over several corruption allegations. The vice-president is accused of having inappropriately helped Ciccone Calcográfica lift its bankruptcy while he was Economy Minister in 2010 through a beneficial payment plan so that the company could be transferred to an investment fund allegedly linked to the vice-president. There are also suspicions that the company was then favored with contracts from the national government to print bills.