Calls for Colombian opposition presidential candidate to quit over spying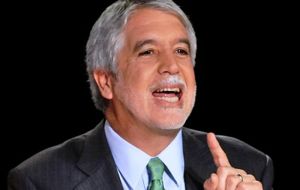 A candidate in Colombia's presidential elections next Sunday has called on the leading opposition candidate, Oscar Ivan Zuluaga, to quit the race after new video evidence of spying by his campaign consultant on peace talks with leftist rebels.
Zuluaga's recent surge in polls of voter intentions could be challenged after local press published a video showing him and a former campaign manager being briefed about government intelligence by a man now in custody and facing spying charges.
The campaign manager, Luis Alfonso Hoyos, quit earlier this month after the arrest of the accused hacker, Andres Sepulveda, and after Colombian broadcaster RCN said the two men had offered it confidential information about the peace talks.
In the video Sepulveda informs Zuluaga that he is in possession of military intelligence. Zuluaga shows no surprise and does not question how he obtained secret state information.
"Oscar Ivan Zuluaga should immediately renounce his candidacy to the presidency and present himself to the judiciary to answer for these crimes," said Green Alliance candidate Enrique Peñalosa, a distant third in polls.
Zuluaga appeared to cast doubt on the video's authenticity, calling it a "montage" and "crude" and that his campaign had been infiltrated by people working against him. He did not explain further why the video and audio published on news magazine Semana's web site www.semana.com, were dubious.
Sepulveda's arrest was made in early May after a raid on his Bogota office where he is alleged to have spied on a FARC member handling its communications at the peace talks in Cuba and hacked into the email of two Cuban journalists.
Zuluaga's campaign acknowledged after Sepulveda's arrest that he worked for the campaign, consulting on social networks. It said then it condemned illegal spying but awaited the results of an investigation.
President Juan Manuel Santos, neck and neck with Zuluaga in election polls, has made the peace talks the hallmark of his four-year mandate and says he needs a second term to finalize and implement a deal to end five decades of fighting.
The talks are widely backed by the public but Zuluaga, the candidate supported by former President Alvaro Uribe, has drawn support from voters who fear talks will lead to impunity for guerrillas in a conflict that has killed more than 200,000.