Suarez to undergo knee surgery, according to sports news; Uruguay plays England 19 June
Thursday, May 22nd 2014 - 07:28 UTC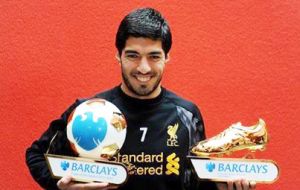 Uruguay's striker Luis Suarez will undergo surgery on Thursday in a knee according to relatives and close friends of the best player of the English Premier league with the Liverpool colors.
The news was first reported early Wednesday by the Sports desk from Montevideo's main daily El País, but there has been no official confirmation from the Uruguayan Football Association.
Suárez arrived in Montevideo this week to begin training with the Uruguay national team that will be playing England on 19 June at the Sao Paulo stadium. England, Uruguay, Italy and Costa Rica are in the same group of the World Cup.
According to Ovación, Suárez on Wednesday did not practice outdoors with the rest of the team, and allegedly was doing exercises in the gym. However it was later reported that he had undergone tests because of pains in one of his knees.
Following tests and x-rays, apparently the medical team agreed surgery was needed and it was decided the intervention should take place Thursday morning.
It was not clear whether Suarez will recover on time for the Brazil Cup.
Meanwhile the other great Uruguayan striker, Edison Cavani currently playing in France, and ranked among the top five players of the European premier leagues (Suarez tops the list), was named 'Illustrious Citizen" of his home town Salto.
The emotive ceremony took place at the local Council with the presence of the Mayor, Germán Coutinho in a packed House. Cavani matched the honor by giving each Councilor a sky-blue shirt of Uruguay national team. He personally signed the shirts at the ceremony.