European lawmakers warn about the impact of a EU/Mercosur accord
Friday, May 23rd 2014 - 10:36 UTC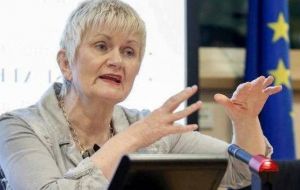 European Parliament lawmakers Marian Harkin and Pat The Cope Gallagher have issued strong warnings of soundings coming from Europe of a potential Mercosur trade deal, particularly European Commission President Barroso intention of having the agreement signed before he steps down from office.
Marian Harkin said the determination of European Commission President Barroso to conclude an EU Mercosur trade deal before he leaves office posed a severe threat to Ireland's interest and required the closest possible attention by Taoiseach Enda Kenny and Ministers for Trade and Agriculture.
She warned that once the European Parliament elections were finished President Barroso would be engaging in an intensive attempt to reach an agreement with Mercosur countries in which the interests of Irish and European agriculture would be sacrificed.
"Nobody should be under any illusion as to the powerful industrial interests who are lobbying hard for an EU-Mercosur deal which, as of now, would mean an unacceptable access to the EU market for agricultural produce", she said.
Ireland's vitally important beef export trade would be decimated by any concessions which would allow high value prime beef cuts into Europe and any concessions to Mercosur and the US on this issue had to be strongly rejected, Independent MEP Marian Harkin said.
Midlands-North-West European candidate Pat the Cope Gallagher MEP has also expressed strong concern that Irish beef farmers would be hit hardest in an uneven and rushed trade deal with countries such as Brazil.
Mr Gallagher said: "It is essential that Ireland sends MEPs to Brussels who understand what is at stake for Irish farmers and will fight for their interests in the Mercosur trade negotiations. Farmers have voiced their concerns and the Commission's own impact study found that European agriculture would suffer, yet the Commission is determined to reach a deal at all costs with the South American countries."
The Mercosur bloc is due to finalize their joint proposal for tariff cuts by the end of May with the aim of exchanging proposals with the EU shortly after. Given the timeframe here and the particular intention of the Commission's President Barroso to reach a deal before the end of his mandate, the role of the European Parliament will be crucial according to Gallagher.
Mr Gallagher concluded: "This trade deal could devastate European agriculture and the Irish beef sector in particular. The Commission seems determined to sacrifice farmers for manufacturing gains. It is estimated that 33,000 farm jobs could be lost across the EU due to the immediate and knock on effects of this deal. It is my aim to fight for Irish farmers and their interests in this trade deal and ensure that the Mercosur trade deal is not rushed through without consideration for farmers and rural communities".