Strikes and protests in chaotic Sao Paulo move to the suburbs
Friday, May 23rd 2014 - 23:59 UTC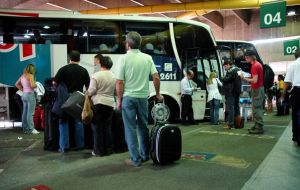 Brazil faced new protests and strikes Friday as bus drivers continued their walkout in Sao Paulo's suburbs and Rio de Janeiro braced for demonstrations 20 days from the World Cup.
The bus drivers' strike stranded commuters in 10 towns in the greater Sao Paulo metropolitan area for a second day. It came on the heels of a two-day strike by their colleagues in the city center that affected more than a million people and caused transport chaos in the country's economic capital.
The suburban drivers are demanding a 10% salary increase, like their counterparts in the city.
"Only 13 buses left the garage" in the suburb of Osasco, said union spokesman Roberto Meiado, quoted by news website G1.
Sao Paulo, Brazil's largest city, has 20 million people in its greater metropolitan area, and buses are the backbone of its public transportation network.
Employees of its metro system are meeting next week to decide whether to stage their own strike.
Brazil has been hit by a wave of strikes and protests in the months leading up to the World Cup and elections in October. Teachers, police and bank security guards have all gone on strike in recent days.
A new protest by activists opposed to the cost of hosting the World Cup was meanwhile planned for Friday evening in Rio de Janeiro.
The protesters say the more than 11 billion dollars being spent on the tournament would have been better used on education, health care, housing and transport.
On Thursday, thousands of people joined a similar rally in Sao Paulo organized by the Homeless Workers' Movement.
Sao Paulo will host the opening match of the World Cup on June 12, and Rio the final on July 13.
Last year, protests during the Confederations Cup, a World Cup dress rehearsal, drew one million people to the streets and at times turned violent, to the embarrassment of tournament organizers.